The Enigma of Kaspar Hauser (Jeder für sich und Gott gegen alle)(Every Man for Himself and God Against All)
(1974)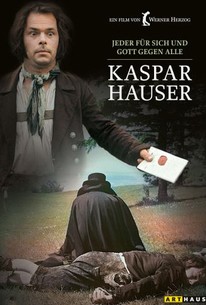 Movie Info
This film is based on the famous story of mysterious 19th-century child genius Kasper Hauser. Hauser shows up unannounced in the middle of a village square. He cannot talk, nor is there any indication of his parentage. When he develops the power of speech, he reveals a highly advanced intelligence.
Critic Reviews for The Enigma of Kaspar Hauser (Jeder für sich und Gott gegen alle)(Every Man for Himself and God Against All)
Audience Reviews for The Enigma of Kaspar Hauser (Jeder für sich und Gott gegen alle)(Every Man for Himself and God Against All)
This is an astounding film that truly brings you into the world of this unique character, who was indeed a real person. You can easily wiki Kaspar Hauser to read the different articles for yourself, but the story goes that a teenage boy was abandoned to a soldier with a note stating that he had been kept inside since infancy and taught some basic things, but now could no longer be cared for and that he should be made a soldier or hanged. Werner Herzog takes some great liberties with the story, as most films do, to acheive a higher resonance of theme. In reality, Hauser was believed by many who took on his case to be a fraud, liar, manipulative, and general hustler. In this Herzog version, he is the innocent, he is the man-babe that has never seen fire, and it is fascinating. The cinematography is consistent and beautiful; it could be watched for its images alone. This is a fantastic outsider film that examines some greater philosophical queries along the lines of "blank slate". Why are so many people marking "Not Interested" for this film? Is it Herzog bias? Is it Cannes scorn? (this did win Palm D'Or in three categories)
_kelly .King
Super Reviewer
½
A slow methodical look at the story of this mysterious "foundling" of German folk lore. A man (I believe the real Kaspar was only 17?) who having been raised entirely in a small cell with no outside contact, is "released" into society, only to find society to be far more constrictive and detrimental then the most solitary of confinement. As usual Herzog tells his verson of this story in a seemingly simple format and style, that (below the surface) is FULL of deep introspection, passion, pain and heartache. And he does so by filling the screen with actors and locales that make you feel as if you are watching a documentary and not a scripted film. Herzog's work may not be for everyone, but for those who enjoy taking a thought provoking journey via the mind (and eyes) of an often unconventional journeyman...ENJOY!
The stars alone are for Bruno S and his extraodinary performance as Kaspar Hauser. A man raised in a prison, just to be released to the big prison that is society. Herzog watches this man not with pity, but with admiration.
Tsubaki Sanjuro
Super Reviewer
The Enigma of Kaspar Hauser (Jeder für sich und Gott gegen alle)(Every Man for Himself and God Against All) Quotes
| | |
| --- | --- |
| Kaspar Hauser: | "My coming to this world was a terribly hard fall |
| Kaspar Hauser: | My coming to this world was a terribly hard fall. |
| | |
| --- | --- |
| Kaspar Hauser: | "What are women good for?" |
| Kaspar Hauser: | What are women good for? |