Epidemic
(1987)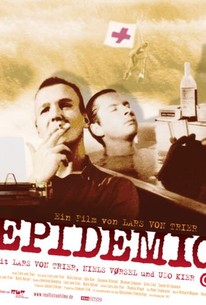 Movie Info
Director Lars von Trier stars in a double role in this experimental horror fantasy. He pretentiously portrays a director who spends a year and a half preparing to make a horror film with help from a government grant. In the second part, he plays a young physician who unknowingly has a plague virus planted in his medical bag. Fantasy sequences depict the possible horror that could come if the virus is unleashed on the public.
Critic Reviews for Epidemic
Audience Reviews for Epidemic
½
This is the worst film Lars von Trier has produced so far. I get that the film is very experimental but I did not enjoy the film at all. There was barely any script, the acting was flimsy and not in a homage to grind house films kinda way, the plot made no sense, the special effects were terrible. I was extremely disappointed, the only redeeming factor was that it sorta helped Lars and Udo to start their Dogme movement. Stay away from the film if you can, Von Trier fans or not, this film will disappoint you or simply bore you to death with its ridiculousness.
Sylvester Kuo
Super Reviewer
No, I'm not quoting the Slayer song, even though it was almost a mere year younger than this film, so shut up. Yeah, I don't really have a passion for thrashin', although, as irony would have it, I can dig on some disturbing filmmaking, so long as it doesn't get carried always, and not just with the disturbances. I can't help but feel as though Lars von Trier played a part in starting the art filmmaking movement in which disturbing material is milked for all its worth, and yet the final product is still kind of dull, because filmmakers don't seem to know the expiration date on their artistic license. In case anyone is feeling that Lars von Trier stands to get a little more experimental with his filmmaking, well, here it is, and thanks a lot for it, you pretentious jerk. Well, maybe the film still stands to be a little weird, because I don't know just how extremely experimental this film can be for von Trier if it's Danish (Hey, he doesn't just make English-language films, only when he wants to actually make some money), but this is still so experimental that it is, in fact, about scientific experiments. You guys can call that statement lame, but it might be accurate, because this film can't be too subtle when it's about an epidemic and actually named "Epidemic". Yeah, I pick on this film because I know that von Trier ought to know better than this, which isn't to say that the filmmaker's style doesn't at least prove to be sharp, up to a point, at least. Most of the film's style is focused on establishing a documentary feel, so of course it's limited, but when it is, in fact, fleshed out, it's solid, with Henning Bendtsen delivering on cinematography that is consistently handsome in its tasteful mixture of subtly intense lighting and a refreshing black-and-white palette. The visual style is distinguished, yet not so artistically ambitious that you lose a documentary feel that, while detrimental to the subjective value whose limitations play a large role in driving the final product into mediocrity, is reasonably effective in selling a grounded feel, while a dramatic feel goes reinforced, at least at times, by what Lars von Trier does relatively well as a storyteller. Von Trier's direction is a little uneven and all but consistently dry for the sake of naturalism that is ultimately more distancing than immersive, yet there are glimpses of abilities that we all know von Trier is capable of as a dramatic storyteller, whose plays on a haunting atmospheric score by Peter Bach and on certain disturbing visuals prove to be near-piercing in their subtle effectiveness and immersion value. In all fairness, solid highlights in direction have solid highlights in material on which to thrive, for although von Trier's and Niels Vørsel's script is pretty messy, sharp occasions in dialogue and characterization punctuate a consistent genuine intelligence that makes audaciously thorough explorations of intriguing subject matter. Yes, no matter how messy its execution may be, the film's story concept is genuinely intriguing, both as a dramatization of scientific and human interpretations of great medical dangers, and as a study on classic human themes, with intellectual and dramatic elements. The interpretation of worthy subject matter is questionable, but I still stand firm behind a lot of von Trier's ideas, both when it comes to establishing the story and when it comes to telling the story, so much so that the film does, in fact, come close to decency. Alas, such decency is ultimately lost in the midst of overt artistic ambition, which is not met with inspiration enough for you to get as invested as you ought to be in a story that seems to deserve full attention. Thin though it may be, the film's narrative still takes more than a few layers that are both promising and, well, distancing, as they convoluted the focus of a film that is hard to get invested in to begin with, without all of the confusion which could have been settled down a bit if things were more organically fleshed out. As things stand, as draggy as the film is, it's still underdeveloped, saying the minimum about its characters and situations right off the bat, then proceeding to say only so much within gradual exposition that feels kind of lazy, reflecting where this particular art film's focus truly rests. The film seems to be pretty intimate with its undercooked characters, but make no mistake, this is a case of style being placed over substance, and I suppose I'd be a little more willing to get past that if the style wasn't rather questionable in a lot of ways. Lars von Trier chooses to approach this drama in a documentarian style, even when storytelling style seems to take a more traditional and subjective turn, and while such a decision is unique and genuinely effective in a lot of ways, the subjective value of this drama goes challenged by objective structural stylization, and the story concept is problematic enough on its own, and not just because f the convolution. I gripe about how the film gets to be confusing, but I have more of a problem with, of all things, the thinness of the story concept, which is driven by simple aimless chit-chat, often truly dramatic, and often dryly scientific, with little meat and little momentum that wear on the potential of the drama. Perhaps the film would have achieved relative decency if it wasn't so dull, for although von Trier's direction has its share of subtly biting attributes, it's uneven, and when it loses realization, momentum drops quickly under the overwhelming pressure of dry, quiet atmospherics that range from bland to near-tedious in their being so cold. The film meanders on and on and on, and while it eventually drags its feet to highlights, it's predominantly flat, even though it's ambitious to the point of being kind of pretentious, meeting inspired occasions with many a moment of convolution, undercooking, overstylization and dullness which cripple the final product just shy of decency. Once the situation has passed, the film thrives on highlights in technical style, dramatic direction and intelligent scripting almost enough to fulfill intriguing subject matter's potential for decency, ultimately lost in the wake of convoluted bloating, despite underdevelopment, in addition to a distinct placement of questionable style over substance whose thinness goes too stressed by a limp pacing which finally dulls Lars von Trier's "Epidemic" into mediocrity, with highlights, but not enough to transcend a combination of overambition and laziness. 2.25/5 - Mediocre
Cameron Johnson
Super Reviewer
½
Apocalyptic manifesto,the last 20 minutes are what our subculture today should have been: decadent in a vicious square of thoughts.And here is the wizard's illumination,a plot where what's seen isn't less real than what's felt.
Dimitris Springer
Super Reviewer
Epidemic Quotes
There are no approved quotes yet for this movie.