Expelled: No Intelligence Allowed
(2008)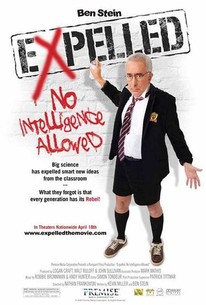 Expelled: No Intelligence Allowed Photos
Movie Info
Intrigued by the recent trend of scientists, journalists, philosophers, and teachers who have been ostracized and discredited for daring to suggest that humankind may be the product of intelligent design rather than a random fluke in the cosmic scheme of things, Ben Stein sets out on a journey to investigate the supposed persecution of the many by the select few. Stein asserts that in recent years, anyone who dares to question the idea that adaptation is responsible for the development of Earth's organisms is held to ridicule, and over the course of the film, he travels the globe to speak with the supporters of both theories, pondering the reasons why believing in a higher power has seemingly become a massive taboo in the eyes of educators and the media. ~ Jason Buchanan, Rovi
Critic Reviews for Expelled: No Intelligence Allowed
Audience Reviews for Expelled: No Intelligence Allowed
Well made and interesting. This is about religion. Don't let that scare you off though. While most documentary films I have seen about God are making fun of those who believe in Him this one just sets out to ask questions and lets you make your own mind up about the answers given. While most interviewers would go the easy route and interview some of the weaker supporters of the "other side" this one goes straight to the top minds of the field of evolution and questions them openly and honestly about what they believe. Check it out.
Jason Spencer
Super Reviewer
½
obviously the rub with this film is due to the emotionally charged nature of its subject matter. because of this people keep challenging the fact that this film offers no scientific data to back up any claims, when in fact the film never pretended to be about that. this is simply a look at the loss of the freedom of ideas and beliefs being presented in a public format without fear of persecution. unlike bill maher who made a documentary this year highlighting the charlatans of religion but dishonestly passing them off as the norm, stein offers an interesting look at a sad series of events in academia that should worry the religious and non religious alike. a bit tedious at points, but overall compelling.
½
I think he had his heart in the right place. The overarching message: That the scientific community is close minded and you have to kick against the pricks to change it. Most ground breaking scientists had to do that, in face most anybody anywhere that changed any ideas has had to do that. I think it would be a good idea if intelligent design was further studied and explored with some actual money, because it's STUPID to think that scientist's have it all figured out. I think both can be right, with parts not fully understood yet. Anyways, the 'documentary' does what most movies made for entertainment try and do...they try to entertain. Not a good idea when you're trying to prove a serious point. Putting up funny black and white videos to insult someone after they just spoke only makes you look like a jerk. Not only that, but the video goes into a completely unnecessary tangent about Darwinism leading to Hitler. STUPID. That took it so far that it only hurts his already credible argument.
Curtis Lilly
Super Reviewer
Expelled: No Intelligence Allowed Quotes
There are no approved quotes yet for this movie.