Facing Windows
(2004)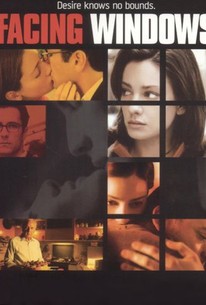 Movie Info
Young married couple Giovanna (Giovanna Mezzogiorno) and Filippo (Filippo Nigro) have been married long enough to have become almost completely jaded by their lots in life, with most of their individual aspirations having been set aside some time ago. As their marriage begins to fall apart, the two encounter a strange old man (Massimo Girotti) who calls himself Simone since he can't seem to recall his real name or much about his past history. Filippo brings the man home to stay with them, which initially irritates Giovanna. Over time, she gradually befriends the confused old man and eventually notices a tattoo on his arm indicative of his being a WWII Holocaust survivor. Taking "Simone" to an old Roman ghetto, she helps him remember his name (Davide) and his time spent in that very ghetto -- which includes recalling the very painful memory of his lover Simone's capture and murder at the hands of the Nazis. Meanwhile, Giovanna has been spending her free time impulsively peeping across the street at her attractive neighbor Lorenzo (Raoul Bova) -- who in turn has been spying on her. Giovanna is thus forced to decide between Filippo and Lorenzo, as well as possibly realizing a long dormant professional dream that her new friend Davide may be able to help her undertake. ~ Ryan Shriver, Rovi
Critic Reviews for Facing Windows
Audience Reviews for Facing Windows
A haunting film on memory, love and loss. Don't dismiss your dreams ~ Demand them!
Stefanie C
Super Reviewer
A complex, multi-layered tale that tried to veer off into bodice-ripper land a couple of times, but managed to steer clear. Giovanna (Giovanna Mezzogiorno) and her husband, Filippo (Filippo Nigro) find a disoriented old man on the street and take him in. The story revolves around their efforts to discover who he is and where he belongs. The presence of this mystery gentleman triggers repercussions in their marriage, their career choices, and their family dynamic. There was a voyeuristic aspect to the story that caused an overly Romantic diversion. This viewer felt that the story might have been stronger without that distraction. But, even allowing for that, the film itself proved to be quite entertaining. The actors delivered quite believable characters and the interactions were suitably complex, conveying mystery without being mystifying. The script seemed without unnecessary frills, except for the aforementioned romantic element, but even that cannot overshadow this viewer's general satisfaction. The scenery is muted as most of the action occurs at night, but there is beauty to be found in abundance here.
Mark Abell
Super Reviewer
½
Intriguing. I have come to expect more from the top Italian films but this was interesting.
John Ballantine
Super Reviewer
Facing Windows Quotes
There are no approved quotes yet for this movie.