Fanny & Alexander
(1982)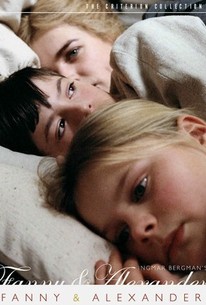 Movie Info
In 1982, Ingmar Bergman emerged with one of his most singularly acclaimed films - a work that dramatically broke away from much of the moody psychodrama that characterized such earlier motion pictures as Cries & Whispers and Hour of the Wolf. Entitled Fanny and Alexander, and originally intended as the director's "swan song," this epic plunges into the life of a theatrical family named the Ekdahls, in turn-of-the-century Sweden. Bergman filters life through the eyes of the two titular Ekdahl children (Pernilla Alwin and Bertil Guve), as they come of age, lose their father unexpectedly, and must contend with their mother's remarriage to an uncaring, dictatorial clergyman from whom there seems to be no escape. Instantly hailed as a masterpiece, Fanny won a slew of international awards, including four Oscars. Yet curiously, the three-hour theatrical version seen in the U.S. did not represent the full depth and breadth of Bergman's vision. He also prepared a five-hour version for Swedish television, one that ran locally as a miniseries in 1984, in four separate installments. The extended running time gives the director to further develop and flesh out his characters, substories and themes, and will thus strike many fans of the original film as a remarkable discovery. ~ Nathan Southern, Rovi
People Who Like this movie also like
News & Interviews for Fanny & Alexander
Critic Reviews for Fanny & Alexander
Audience Reviews for Fanny & Alexander
½
Ingmar Bergman crafts a stunning piece of cinema that is bold, ambitious and superbly acted and is a film that ranks among the finest of foreign cinema. The story is simple, yet the way Bergman tackles his subject is truly exquisite and adds so much to the overall enjoyment of the film. I have heard many great things about Bergman, and I can see why. He's a filmmaker who crafts picture that not only tell a great story, but they rely on a powerful, evocative visual style to really grab your attention. With Fanny and Alexander, he uses a simple idea, yet he brings it to fruition with a superb cast of talented individuals, and it's a beautiful picture that easily ranks among the finest ever made. The story follows two children and its adventures they experience with their family. What follows is a striking story that you cannot forget, and is hard to tear yourself away from because Bergman's picture is more a work of art than actual film. This is a must watch if you enjoy a finely crafted genre picture, a film that resonates with the viewer and uses a simple plot to its advantage. Of course what I appreciated the most about the film is the fact that Ingmar Bergman doesn't overdo anything with the film, and like many of cinema's finest artists, he does phenomenal work with using so little, and it works very well. Fanny and Alexander is a picture is engaging from start to finish, a film that has power in its visuals, acting and direction. If you're a cinephile you owe it to yourself to watch the film. To me, Fanny and Alexander was superb, immaculate filmmaking at its very best, and it is a film that resonates due to the fine craftsmanship that Bergman has displayed in front of the camera.
Criative and inspiring masterpiece tale by Bergman.
Lucas Martins
Super Reviewer
Without doubt the best movie I've seen by Ingmar Bergman so far! This amazing classic has some of the most beautiful scenery and art-directing ever conceived in the history of cinema. Superb acting all-around and an intriguing story that is incredibly moving. All in all, Swedish film-making at its best, and something you can appreciate whichever country you're from.
Fanny & Alexander Quotes
There are no approved quotes yet for this movie.