Fiend Without a Face
(1957)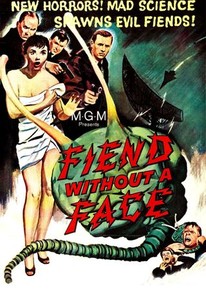 Fiend Without a Face Photos
Movie Info
Propelled by their spinal cords, murderous airborne brains fly out in search of food-for-thought after of a scientist's experiment with thought-materialization goes horribly awry in this horror movie with excellent special effects and a some genuinely scary moments. It all begins as the scientist, working at an isolated Canadian air base, experiments on himself. Unfortunately, his atomic invention manifests the researcher's own evil thoughts which become the terrifyingly real brains that feast messily upon the brains and nervous systems of others.
Critic Reviews for Fiend Without a Face
Audience Reviews for Fiend Without a Face
½
Overall, Fiend without a Face works as a 50s science fiction film that at times may be a little cheesy or far stretched, works. For the time, and on a tiny budget, it is a successful creature film with some amazing stop animation. If you're into older sci-fi, you'll find yourself eating this up.
Chris Browning
Super Reviewer
½
Campy, classic science fiction from 1957 (the year that also gave us The Deadly Mantis, Attack of the Crab Monsters and The Brain From Planet Arous).
Randy Tippy
Super Reviewer
I walked into Fiend Without a Face somewhat cold. I halfway expected a plot involving evil brains of some sort, and I got exactly that. I'm not like most people in that I try not to read as much as I can about what a film is going to be about before I see it. Walking in cold gives me the most honest reaction, without any preconceived notions or having my hopes dashed when it sounds great only to find it to turn out to be terrible. Well, this movie isn't terrible, but it's not great either. However, I do find it fascinating that it's actually a British production, set in Canada with mostly American and Canadian actors, but all shot in England. I also find it intriguing that people were actually frightened by flying brains on mostly visible wires. I'm not detracting from the film because effects like this weren't easy (the stop motion stuff was actually very good), but I wonder just how well that stood out to audiences in 1957? Its real shortcomings are in the face that it's laborously paced and contains far too much plot and not enough character. It also spends most of its time spewing exposition. The one scene that was at least halfway effective is when Jeff is locked in a crypt... only to be released several hours later. It starts out rather creepy, but ultimately goes nowhere, and the explanation for why he was locked in the crypt in the first place is absurd. So yeah, the movie certainly won't win you over with a fantastic script, plot or dynamite performances, but its ridiculousness and setting you should find intriguing enough to warrant seeing it.
Tim Salmons
Super Reviewer
Fiend Without a Face Quotes
There are no approved quotes yet for this movie.