15
(2004)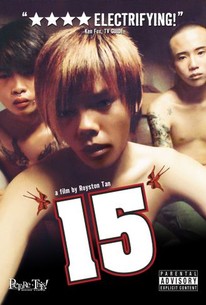 Movie Info
15, the debut feature from writer/director Royston Tan, takes a loosely plotted look at the lives of some unruly teens in Singapore. Melvin (Melvin Chen) and Vynn (Vynn Soh) are best friends who spend a lot of their time cutting school and watching porn together. Melvin is worried about passing his exams because his mother has threatened to throw him out if he fails. Vynn still feels bitterness over the dissolution of his friendship with Shaun (Shaun Tan), who abandoned his former friends when he became more involved in gang life. The two boys also devote some time to working on a scandalous musical number to perform at a school assembly. The second half of the film focuses on Shaun and his friend Erick (Erick Chun). First a former rival, Armani (Melvin Lee), helps them out when they're attacked by a gang of snotty, English-speaking schoolboys. In exchange, they devote a couple of days to helping the suicidal Armani find a suitable building from which to jump. Shaun and Erick also engage in drug smuggling, and Shaun helps Erick pierce his cheek. 15 was based on an earlier short film by Tan, who used the boys' own stories to help shape his narrative. The film created a lot of controversy in its native Singapore and inspired Tan to make Cut, a satirical short film celebrating censorship. 15 was shown at the 2004 New York Asian American International Film Festival.
Rating:
NR
Genre:
,
Directed By:
In Theaters:
On DVD:
Runtime:
Studio:
Picture This! Entertainment
Audience Reviews for 15
½
FASCINATING! "15" provides amazing insight into a segment of the youth culture in contemporary Singapore. The streets in Singapore are supposedly spotless and you can walk around at 3 a.m. without worrying about being attacked. (No one says that you won't face intense law enforcement interrogation for being out at 3 a.m. but thugs won't attack you.) I have to mention remembering a controversy surrounding an American blond teenager visiting Singapore named Michael Fay. He was punished by caning in April 1994, for alleged vandalism. The thought of punishment by caning caused an international sensation. President Clinton even got involved in the matter. He strong-armed the Singapore government into reducing the number of strikes from six to four. Few Americans realize that when an official Singaporean caning is administered (by no less than a professional martial arts person), the skin is obliterated with the first strike. Bleeding begins immediately. Permanent scars are common. The activities portrayed by the young males in "15", all non-professional actors who actually lived in public housing, are eye opening, if not shocking. I was thoroughly entertained. The camerawork is cutting edge and magnificent. There are times when you almost feel that you are watching little MTV moments. Vibrant visuals combined with interesting rhythmic musical patterns are shown when a new gang affiliation is made. These boys change gangs as quick as garage bands changed names and personnel during my youth. The kids are young. They feel angry and alone in a city that refuses to acknowledge their existence. The only comfort this group of young men have is the transitory nature guys have with guys as they define which gang they belong. At the end of "15", little postscripts about the characters are given: some are under criminal investigation, one is dead, another "whereabouts unknown." I don't know if this is truth or fiction. I suspect it may be truth. In all but one case, the characters' names are the same as the names they were born with. "15" was shown throughout the world before being viewed by a public Singaporean audience. When it was seen in Singapore, 27 cuts were required. (They are restored in the DVD.) Feeling lonely, in spite of belonging to a gang is the mental state of the boys in "15". They are in a constant state of distress. Most of the worry and stress is caused by parental factors which stress the value of money over EVERYTHING. It is a capitalistic economic system run amuck. The boys worry about parental rejection for failing ONE test. You see gorgeous slim guys posing as tuffs with tattoos reciting gang rap. The director, Royston Tan, shows the boys for what they are: young kids with frail bodies who have no one but each other. The film is extremely graphic. You may find it hard to watch at times. You will be watching the boys walking down the street. All of the sudden, a girl falls on the sidewalk. Her head gushes blood. She has committed suicide. There is a face piercing which is no special effect. Melvin, Vynn and Shaun are members of a typical gang. They talk about sex, indulge in drugs, get tattoos and piercings, and fill their seemingly aimless, pointless lives with various forms of mischief. Shaun then ditches Melvin and Vynn for a new gang: Erick (Erick Chun) and Armani (Melvin Lee) bring with them a new set of emotional baggage: Armani is determined to commit suicide. Erick becomes the object of Shaun's affection. The unique chemistry between the cast and writer-director Tan is obvious. It is incredible this is Tan's very first feature. I truly felt his enthusiasm for filmmaking. I know that the general theme of troubled teens is nothing unique, but it takes a Gregg Araki to present anything remotely comparable. These aren't the soulless delinquents you find in a Larry Clark film. There are wonderful sectional divisions with little philosophical underpinnings such as: "A second to err. A Lifetime to pay." "Life's second greatest pain: Rage." "The third species: A walking corpse." "The world's most lethal drug: Despair." The love these boys have for each other is beautiful beyond words. It is just so unfortunate at this time in their lives, they believe if they don't die of AIDS they'll get cancer. I was truly moved. I believe that you will too.
Larry Jenkins
No real plot happens here - more of a documentary on what some young Singaporean outcasts do to deal with life. We follow the gang around as they deal with problems with school, relationships, and society in general while partaking in gang activities and drug trafficking. Some of the scenes are a little too real, you'll know the one as it happens near the end of the film. The strong homoeroticism between the boys becomes a bit much, just kiss already and get it over with! It just goes to show the bond that exists between them as they really don't have anything else in their lives. Worth watching to learn about Singapore's outcast/gang/youth society but not really for a popcorn night on the couch.
Zachary Long
Full of gritty, sometimes difficult to view scenes, this movie is one of the best to come out of Singapore.
Selia T.
15 Quotes
There are no approved quotes yet for this movie.
Discussion Forum
Discuss 15 on our Movie forum!