Fires on the Plain (Nobi)
(1959)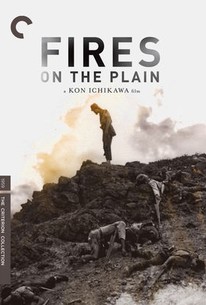 Fires on the Plain (Nobi) Photos
Movie Info
Kon Ichikawa's adaptation of Shohei Ooka's novel Nobi takes place in the Philippines at the end of World War II. The Japanese army is in hasty retreat from the incoming American forces. The soldiers have also been warned that the Americans will take no live prisoners, and so their flight is all the more desperate. One group of men harbors a soldier named Tamura (Eiji Funakoshi) suffering from the last stages of tuberculosis. Knowing he is facing imminent death anyway, Tamura is able to resist submitting to the chaos and demoralization that overtake his fellow soldiers (who fall so far as to commit murder, cannibalism, and go insane). Eventually Tamura becomes involved with a couple that has returned in order to pick up a cache of salt. He shoots the wife and chases off the husband, bringing him one step closer to losing his humanity. ~ Perry Seibert, Rovi
Critic Reviews for Fires on the Plain (Nobi)
Audience Reviews for Fires on the Plain (Nobi)
A brutal look at the last days of the second World War for a group of Japanese soldiers in the Philippines. Our protagonist is a TB-infected soldier who the hospital won't admit because he isn't sick enough, as he 'can still walk". He is run out of his unit because he is eating valuable food -- mostly yams -- and not able to contribute to gathering it. He then meets up with a variety of soldiers who aren't much better off than he is. He witnesses illnesses, cruelty, starvation and even cannibalism in the end. The horrifying events shown are even more shocking in that the story is based on true-life, a book written by a soldier who witnessed all this and probably more. The only ising that keeps me from giving this a higher rating is the first few minutes of the film. Our protagonist is standing at attention while he is reamed out by his commander. This reaming-out is basically exposition of the story. I would have liked it more had the action been played out rather than just explained. But other than that, a quality film from beginning to end.
another brilliant film from the great kon ichikawa. fires of the plain deals with taboo subjetcs for japanese culture such as the surrender of soldiers in the time of war and cannabalism, but there is a sense of honesty and reality in the portrayal of these things. the camera work and acting were perfect, and although the story hit a wall for about 20 minutes in the middle, it picked back up and ended with excellence. beautiful anti-war film.
Beautifully shot, but disturbing stuff here. This is how war movies should be made.
Fires on the Plain (Nobi) Quotes
There are no approved quotes yet for this movie.