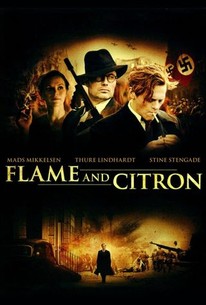 Flame & Citron
2008, History/Drama, 2h 12m
70 Reviews
5,000+ Ratings
What to know
critics consensus
The true story of the Danish resistance in WW2, though lengthy and sprawling, is gripping and competently made. Read critic reviews
Where to watch
Rent/buy
Rent/buy
Rate And Review
Movie Info
Gunman Flame (Thure Lindhardt) and his partner Citron (Mads Mikkelsen) assassinate Nazi collaborators for the Dutch resistance. Assigned targets by their Allies-connected leader, Aksel Winther (Peter Mygind), they relish the opportunity to begin targeting the Nazis themselves. When they begin to doubt the validity of their assignments, their morally complicated task becomes even more labyrinthine. Though Flame romances enigmatic Ketty Selmer (Stine Stengade), Citron may be his only ally.
News & Interviews for Flame & Citron
Audience Reviews for Flame & Citron
Pretty much what the consensus describes, a little bit too lengthy but good drama nonetheless based on the truth story about the Danish resistance group in WWII. Flame and Citron and two of the top assassins of Nazis who struggle with their own lives as the light in the tunnel became less bright. Though I don't think it was accurate, but the acting by two of my favourite actors: Thure Lindhardt and Mads Mikkelsen worked marvelously.

The astonishing Mads Mikkelsen and the brilliant Thure Lindhart join forces as Danish assassins targeting Nazis. The famous duo are handed orders and become expertly proficient at executing their orders. The script makes sure to enter real character struggles as each murder does weigh on their minds. The violence is handled with a shocking honesty that never feels acceptable, even if the victims are Nazis. The film takes a seriously dramatic and conflicting turn when we dicover that perhaps those giving the orders weren't exactly innocent and perhaps some of the targets weren't as bad as we had thought. It leads us to a number of brilliant shoot-outs which are handled in a way that is never obvious nor sentimental.

Rather dramatically inert and plodding film detailing members of an Anti-Nazi resistance in Denmark. The acting is uniformally excellent with Thure Lindhardt especially impressing, but there are too many drawn out scenes of near-impossible bullet dodging and an episodic feel that means the film never immerses as it should, though some geeky camera techniques are memorable. Perhaps having so recently watched the far superior <i>Army of Crime</i> I was unable to keep drawing comparisons. The finale is stunning, however.

In "Flame and Citron," Bent(Thure Lindhardt, a cross between Eric Stoltz and Tilda Swinton) and Jorgen(Mads Mikkelsen, working the Peter Lorre sidekick role well) do their bit for the war effort in occupied Denmark by assassinating Nazi collaborators under the command of Aksel Winther(Peter Mygind) who gets his marching orders directly from British High Command. Such actions do not come without a price as Bent has a 10,000 kroner price on his head. Even then, he wants a shot at Hoffmann(Christian Berkel), the local Gestapo commander, but is denied approval. Meanwhile, Bent is rather curious why Ketty Selmer(Stine Stengade) knows his real name. "Flame and Citron" is a well-photographed movie that has a more ambiguous take on World War II than usual which ironically also ties the movie into knots, making it more convoluted than it had to be.(And the scenes involving Jorgen's family are completely irrelevant.) Such complexity does not extend to the title characters who are the simple heroes of the piece which conflicts with any intelligent attempt to explore the repercussions and motivations of politcal violence.(Anyway, "Love and Death" already beat this film to the punch.) Gilbert(Hanns Zischler) gives three very good reasons for people drawn to it. A fourth might include Bent's grandstanding while a fifth might be those who actually enjoy it. In the end, I'm wondering if Bent's spending so much time in the bathtub is supposed to link him to Jean-Paul Marat.
See Details