A Foreign Affair
(1948)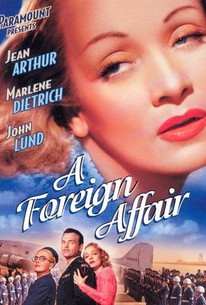 Movie Info
This is story of a love triangle involving an American soldier, a congresswoman from Iowa and a German singer who meet in postwar Berlin.
Critic Reviews for A Foreign Affair
Audience Reviews for A Foreign Affair
½
This may not be one of Wilder's major works, however, the spirit is here, and you can feel it: the German director and his fellow German leading woman have made this film from the soul. It's more about post-war Berlin, than the love-affair (mere excuse of a plot). Jean Arthur's talent saves the day when it comes to the (sometimes) poor script, and provides the comic relief, but it's Dietrich that shines all the way through- she is simply divine. She steals the whole film, of course, and the scenes where she sings at the cabaret can be inscribed on one's memory for ever. Don't miss this classic!
Anastasia Bartzoulianou
Super Reviewer
½
dark comedy set against the brutal backdrop of post-war berlin. jean arthur plays a stuffy american congresswoman who becomes involved with an army officer who's trying to cover up his lover's nazi past. i like that both jean and marlene were close to 50 when this was made. the script is vintage wilder if a little predictable, with shades from ninotchka to stalag 17. john lund is okay as the male lead; don't think i've ever seen him before...not wilder's best but very entertaining.
Stella Dallas
Super Reviewer
'A Foreign Affair' Provides the Laughs, Dahling This postwar comedy with Marlene Dietrich as an acid-tongued nightclub singer with suspected Nazi ties and Jean Arthur as a visiting no-nonsense Congresswoman from Iowa both after the same army heel with a guilty conscience starts slowly but gets in full gear when the romantic entanglements commence. Both actresses are terrific.
Doctor Strangeblog
Super Reviewer