Friday the 13th
(2009)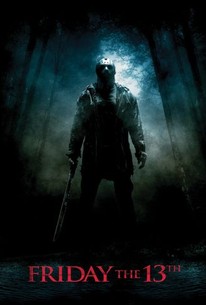 TOMATOMETER
AUDIENCE SCORE
Critic Consensus: Though technically well-constructed, Friday the 13th is a series rehash that features little to distinguish it from its predecessors.
Movie Info
In this re-imagining of the classic horror film, Clay searches for his missing sister in the eerie woods of legendary Crystal Lake, where he stumbles on the creaky remains of rotting old cabins behind moss-covered trees. And, that's not the only thing lying in wait under the brush. Against the advice of police and cautions from the locals, Clay pursues what few leads he has, with the help of a young woman he meets among a group of college kids up for an all-thrills weekend. But, they are about to find much more than they bargained for. Little do they know, they've entered the domain of one of the most terrifying specters in American film history-the infamous killer who haunts Crystal Lake, armed with a razor-sharp machete--Jason Voorhees.
News & Interviews for Friday the 13th
Critic Reviews for Friday the 13th
Audience Reviews for Friday the 13th
Obviously, one goes into this movie expecting a lot of gruesome deaths, huge breasts and a lot to laugh about, just like when watching any other chapter of this trashy, brainless series. But this remake is never scary, tense or anything besides a predictable imbecility.
Carlos Magalhães
Super Reviewer
It's easy to understand why someone would want to remake classic horror films, especially the slasher variety. From a studio standpoint, it's a financial goldmine. All you need is a director, a low budget, and the star power of Jason Voorhees or Freddy Krueger, release it at the right time of year, and wait for the revenue to roll in. Artistically, although most of the movies can be defended if a nostalgic connection exists, the truth is, a lot of them haven't aged all that well. Many of them weren't that good to begin with. Once you divorce yourself from the aforementioned nostalgia, this accurately summarizes the entire Friday the 13th franchise. I was lucky enough to discover Friday the 13th as a youngster. So, there are times when I can go back and relive the ridiculous chapters from the 80's. This can be a real chore though. I still enjoy the premise and the Jason Voorhees character, so I more than welcomed an attempt to rejuvenate the franchise. The maker's of the film didn't stray very far from the original formula. What unfolds is what you'd expect. Teenagers show up at Camp Crystal Lake to party, they encounter Jason, and they pay dearly for doing so. What you get is not a reimagining, but a contemporary version of fossilized pictures, that have lost the majority of their relevance. What transpires actually borrows some coherent events from the first 4 chapters of the original series. So, it isn't just a remake of the original Friday the 13th. Which is a positive, because I have no desire to witness Pamela Voorhees in the slasher role. Let's be honest, one of the only reasons to watch, is to see Jason in action. Speaking of Jason, one of the reboot's undisputed successes is their portrayal of this iconic character. What's presented here, is the quintessential version of Jason. This rendition is a fast,menacing giant with noticeable cunning and a pronounced mean streak. The writers wisely chose to avoid much backstory, which eliminated the undesirable effect of having the character come off as sympathetic. One of the better scenes in the film focuses on Jason sharpening a machete. During the task, Jason flashes back to his mother's decapitation. The thoughts launch the character into a violent tantrum. Witnessing the fit of rage, is not only unprecedented, but made Jason actually seem demented, as opposed to a nondescript zombie. It was a nice touch. As expected, the film has its fair share of problems, but these are evident in all of the movies. First of all, it's very easy to feel apathetic toward the characters. To me, the film would be more exciting if I was actually invested in somebody's survival. As opposed to hoping that the characters are exterminated as soon as possible. It also wouldn't hurt to scale back the ridiculous antics of the teenagers. The "good times" are normally awkward celebrations that only serve to lighten the tension necessary to actually make the movie scary. It is easy to dwell on the film's faults, and it should at least be considered a missed opportunity. If you hated these movies before, or you were hoping for a radical new direction, you'll want to run like hell from this too. On the other hand, if your expectations are to witness a good Friday the 13th movie, you shouldn't consider 2009's rendition that disappointing. These days, I'm probably more willing to sit down to this version than any of its predecessors.
Jason Calvin
Super Reviewer
Michael Bay's Platinum Dunes takes another household name in the horror genre and desecrates it with a useless, unscary, boring, overproduced, and incompetently written joke of a movie. This is the kind of film that really gives horror a bad rep, providing further proof that the only worthwhile horror movies are the ones made independent of the studio system.
Edward Boxler
Super Reviewer
Friday the 13th Quotes
| | |
| --- | --- |
| Chewie: | (hands over the hockey stick to Jason) - Are you looking for this? Because, uh, it completes your outfit. |
| Chewie: | Are you looking for this? Because, uh, it completes your outfit. |
| | |
| --- | --- |
| Chewie: | (watching Bree dancing) - In my next life, I wanna come back as one of the buttons on the ass pockets of her jean shorts |
| Chewie: | In my next life, I wanna come back as one of the buttons on the ass pockets of her jean shorts. |
| | |
| --- | --- |
| Trent: | You're gonna piss me off. |
| Clay Miller: | Oh. What happens then? |
| | |
| --- | --- |
| Trent: | Look, Clay, obviously she's just trying to be nice. But you can't stay here. No offense, but this is a private party. I don't know you. |
| Clay Miller: | No, you don't know me. |
Discussion Forum
Discuss Friday the 13th on our Movie forum!