From Up On Poppy Hill
(2013)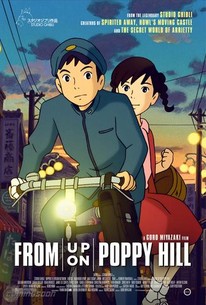 TOMATOMETER
AUDIENCE SCORE
Critic Consensus: Gentle and nostalgic, From Up on Poppy Hill is one of Studio Ghibli's sweeter efforts -- and if it doesn't push the boundaries of the genre, it remains as engagingly lovely as Ghibli fans have come to expect.
From Up On Poppy Hill Videos
From Up On Poppy Hill Photos
Movie Info
The setting is Yokohama in 1963, and the filmmakers lovingly bring to life the bustling seaside town, with its misty harbor, sun-drenched gardens, shops and markets, and some of the most mouthwatering Japanese home-cooking set to film. The story centers on an innocent romance beginning to bud between Umi and Shun, two high school kids caught up in the changing times. Japan is picking itself up from the devastation of World War II and preparing to host the 1964 Olympics - and the mood is one of both optimism and conflict as the young generation struggles to throw off the shackles of a troubled past. While the children work together to save a dilapidated Meiji era club house from demolition, their tentative relationship begins to blossom. But - in an unexpected twist that parallels what the country itself is facing - a buried secret from their past emerges to cast a shadow on the future and pull them apart. (c) GKids
Rating:
PG (for mild thematic elements and some incidental smoking images)
Genre:
, , ,
Directed By:
Written By:
In Theaters:
On DVD:
Runtime:
Studio:
News & Interviews for From Up On Poppy Hill
Critic Reviews for From Up On Poppy Hill
Audience Reviews for From Up On Poppy Hill
½
Directed by Goro Miyazaki (Tales From Earthsea), "From Up on Poppy Hill" is a minor work in the Studio Ghibli canon, albeit a lighthearted and charming one. Written by Hayao Miyazaki, the story is perhaps his most grounded yet, discarding the fantasy of his other works in favor of a simple, nostalgic take on a young romance (around the time of the Tokyo Olympiad). The characters are likable, even as a surprising, life-changing turn of events stains there relationship. The subject of said mystery I will not spoil here, but I was pretty shocked that a Ghibli film would tread such (potentially) uncomfortable territory, but it's all innocent and handled really well. The animation is really good, if a little rough around the edges at times. The film lacks the lingering establishment frames and joyous ambiance of Hayao Miyazaki's directorial efforts, and there is nothing particularly memorable on a visual level. But a low-key beauty suits the low-key melodrama of the picture. "From Up on Poppy Hill" is a step in the right direction for Goro as a torchbearer for his father. It is flawed, it's animation not perfect, and it doesn't conclude in the most satisfying of fashions, but likable central characters, complex emotions and a tone like sunshine go a long way. Like any Studio Ghibli effort, it's well worth seeing.
½
Goro Miyazaki's From Up on Poppy Hill takes it slow and steady.
Concluding at an hour and a half, the consistent sense of not knowing there the story is going is what keeps this film afloat. Backed by a calm atmosphere and a slower pace, the buildup of characters comes first and foremost, while the setting of the picture is a delight.
As with any good anime, the design of the characters are great and the attention to background detail work wonders at making the story that much more engrossing.
Voice work goes a long way in animations and there is no problem here. Masami Nagasawa and Junichi Okada highlight the cast.
From Up on Poppy Hill doesn't pull any sharp turns with its storytelling, but when all is said and done, the story comes to a close nice and easy.
½
Goro Miyazaki's sophomore effort (with the help of his father writing the screenplay) goes for a much more down-to-earth period piece (set in 1960's Japan) in contrast to the high-concept fantasy of 'Tales from Earthsea' (aka. Tales from Bored-sea). While slightly better than his previous effort (which isn't saying a whole lot), Goro fails to make a convincing argument that he has what it takes to carry on his father's legacy. While far from a bad movie, 'From Up on Poppy Hill' feels completely uneventful, especially for a Studio Ghibli flick. In a way it comes off as a much lesser version of 'Whisper of the Heart'; another idealistic boy-meets-girl devoid of the typical Ghibli magical realism. However, where 'Whisper of the Heart' managed to tell a powerfully sweet coming-of-age tale while making mundane everyday life seem enchanting on it's own right; 'From Up on Poppy Hill' instead tells an unsettlingly trite "save the rec-center" plot with Goro's direction lacking the expert eye-for-detail or youthful invigoration in order to make the ordinary city-scape exciting. One of the few times the film conjures up any of that special Studio Ghibli magic is in the clubhouse scenes. The script by Hayao Miyazaki and Kaiko Niwa contains interesting themes regarding the idea of keeping the memory of the past alive while still looking forward to the future but Goro fails to conjure up any emotional resonance or intrigue from this simple tale. The characters are mostly forgettable; with the protagonist Umi being the only character with anything resembling depth (although far from the most engaging female protagonist that Studio Ghibli films contain in spades) and her romantic interest Shun contains zero personality. The narrative is blandly straightforward and little background is given as to why the clubhouse is so important to save from demolition (the students keep talking about how much history the clubhouse contains but we are never told any of it). There is also a plot twist that happens halfway through that could have been daringly interesting but the ensuing drama is so half-baked and the fact that it is literally retconed fifteen minutes later leaves the whole thing feeling like a cheap gimmicky soap-opera curveball (also leads to the biggest WTF moment in the film; those who've seen the movie will know what I'm talking about). Aside from the good animation and atypical sets 'From Up on Poppy Hill' is Goro's second time at bat and things are not looking too bright. Either he needs to find his own style or has to stop making films altogether (emulating his father's style is only calling attention to all his shortcomings as a filmmaker).
Christopher Heim
Super Reviewer
From Up On Poppy Hill Quotes
There are no approved quotes yet for this movie.