Fulltime Killer
(2003)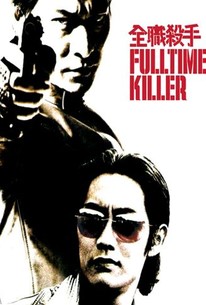 Movie Info
Following up on his two-fisted 2000 flick The Mission, Johnnie To, along with Wai Ka Fai, directs this high-octane shoot 'em up about a pair of hired killers vying for their reputation and for a beautiful girl. O (Takashi Sorimachi) is a reclusive, highly disciplined assassin who is considered the top killer of Hong Kong. Since the murder of his comely housekeeper, with whom he secretly has fallen in love, he has grown even more inward. For him, any connection to the outside is fraught with danger, usually leading to death. Tok (played by pop star and heartthrob Andy Lau) is the polar opposite of O -- brash and eager to be number one. Chin (Kelly Lin) is O's part-time housekeeper -- a replacement to her murdered predecessor -- and current obsession. When Tok seduces her -- in between knocking off gangsters in a Bill Clinton mask -- he forces O out of his seclusion and into a confrontation with his rival. Meanwhile, Interpol, lead by Inspector Lee (Simon Yam of Bullet in the Head fame), is hot on their trail. This film was screened at the 2001 Toronto Film Festival.
Critic Reviews for Fulltime Killer
Audience Reviews for Fulltime Killer
½
Stylish action-thriller that may not be rife with originallity but does deliver an entertaining and cool time-filler. Really good action scenes helped along by snazzy camera work and a great charismatic performance by Andy Lau. The whole competing hitmen thing has been done before but there's enough in this one for any Hong Kong action fan to enjoy, but it's not among the directors best efforts.
This is a very enjoyable action / thriller movie from Hong Kong, though not as much action as some I have seen from the west (West of me.) it still holds a good story line and enjoyable moments. Two assassins are pretty much pitted against each other. One is O (Takashi Sorimachi) who is the top hit man in the far East and is know for his professionalism. He has a cleaning lady who he is in love with clean an apartment he never lives in. The other assassin is Tok (Andy Lau), who is a show boater when it comes to killing. Sooner or later they must face each other and this provides for a action packed movie, that rates 4 stars.
Bruce Bruce
Super Reviewer
Starts well until it becomes exactly what is trying to make a parody from, but duller. Andy Lau was fun to watch here, Simon Yam is awfully wasted.
Tsubaki Sanjuro
Super Reviewer
Fulltime Killer Quotes
There are no approved quotes yet for this movie.