Funeral Home
(1980)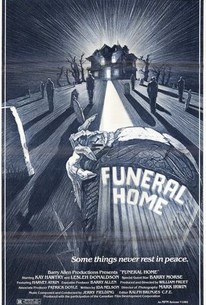 AUDIENCE SCORE
Critic Consensus: No consensus yet.
Movie Info
Also released as Cries in the Night, Funeral Home serves up a generous supply of shudders even for non-fans of the horror genre. Teenager Heather (Lesleh Donaldson) spends a very unsettling summer vacation with her grandmother Maude (Kay Hawtrey). It seems that Maude's small hotel was once a funeral parlor -- and it is subject to disembodied moans and groans in the middle of the night. When several of Maude's summer guests disappear from view, Heather decides to investigate..all alone. A certain Alfred Hitchcock film is shamelessly invoked throughout Funeral Home, clueing the viewer to the bone-chilling climactic payoff.
Critic Reviews for Funeral Home
There are no critic reviews yet for Funeral Home. Keep checking Rotten Tomatoes for updates!
Audience Reviews for Funeral Home
½
Made during the height of the Slasher craze, Funeral Home is an obscured gem of the genre, one that is decent, but never remarkable either. The ideas here are quite good, but the problem is, is that the film's script lacks in terms of truly inventive ideas, and it ends up being your standard Slasher film. The film takes its time to build up, and I guess that's a good thing because it does manage to set the stage for what is to come. Genre fans will enjoy this, but those who are seeking a more elaborate Slasher will most likely be disappointed. This is your typical Slasher formula and it should satisfy genre fans or any viewer looking for obscured titles in the genre. The cast aren't memorable and the performances are mediocre at best. However if you can get past that, you might like this. Slasher films aren't known for their performances, the kills are good here and it terms of idea for a Slasher film, I think the fact that they set up the story in a Funeral Home was pretty good, and definitely was an idea that had the potential of being so much more than what turned out to be. Funeral Home is a decent film in the genre that is mostly for true genre enthusiasts. The film has its flaws, but nonetheless it works well enough if enjoy these types of movies. In 1980 there had been countless Slasher films, and this one should be seen, even if it is a low budget, tongue in cheek affair, fans might like this one due to its concept, but it does leave a lot to be desired, and it definitely could have been much better, but nonetheless this is a decent Slasher, and it is better than many films released during this period.
Funeral Home Quotes
There are no approved quotes yet for this movie.