Ghosts on the Loose
(1943)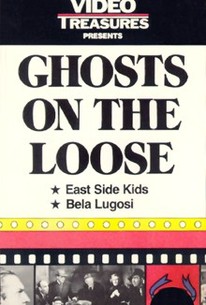 AUDIENCE SCORE
Critic Consensus: No consensus yet.
Ghosts on the Loose Videos
Ghosts on the Loose Photos
Movie Info
Ghosts on the Loose (which features no ghosts whatsoever) is perhaps the best-known of Monogram's "East Side Kids" series. This time, Muggs (Leo Gorcey), Glimpy (Huntz Hall), and the rest of the kids offer to decorate the honeymoon cottage of Glimpy's sister, Betty (Ava Gardner), and her new husband, Jack (Rick Vallin). Unfortunately, the boys end up at the wrong house, a sinister mansion that serves as the headquarters for a Nazi spy ring headed by Emil (Bela Lugosi). The rest of the film is an extended chase -- first the Nazis chasing the boys, then the boys chasing the Nazis. Incidentally, this is the film in which Bela Lugosi allegedly sneezes out an obscenity. Ghosts on the Loose has been reissued under several titles, notably The East Side Kids Meet Bela Lugosi.
Rating:
NR
Genre:
, , , ,
Directed By:
Written By:
In Theaters:
On DVD:
Runtime:
Studio:
Acme DVD Works
Critic Reviews for Ghosts on the Loose
There are no critic reviews yet for Ghosts on the Loose. Keep checking Rotten Tomatoes for updates!
Audience Reviews for Ghosts on the Loose
½
As a chance to see the momentary collision of an incredibly young Ava Gardner just beginning on her way up and The Bowery Boys and Bela Lugosi on their way down this is an okay little hour but it's second (or third) rate in every other way.
Probably More Integrated Than Most of the Theatres It Played In For some reason, we don't much get comedy teams anymore. I'm vaguely disappointed by this. Oh, we get people who work together a lot, but that's different. In the Old Days, you had the East Side Boys, featuring actors who had been Dead End Kids and Little Tough Guys (plus a member or two of Our Gang) and who would go on to be Bowery Boys. There were the Marx Brothers and the Ritz Brothers. Abbott and Costello, Laurel and Hardy, and even Martin and Lewis, toward the end of the phenomenon. They all had a shtick of some kind, roles they played every time, and it was safe to say that if you liked the humour of one movie, you'd like the others, too. If you've been on the [i]Road to Singapore[/i], why not continue and take the [i]Road to Rio[/i]? It was Bing Crosby and Bob Hope bickering over Dorothy Lamour every time. It seems funny to lament some of the most formulaic movies ever made, but a lot of them were still good! This one . . . well. Glimpy (Huntz Hall) is to be the best man when his sister, Betty (Ava Gardner), marries Jack (Rick Vallin). Jack has even managed to buy a house in the suburbs, but there's something odd about it. He is told, in fact, that it is haunted and that no decent man would bring his new bride back to a haunted house! So okay, he agrees with that, and maybe a quick trip to Niagara Falls is in order while he arranges to sell the house and buy a new one. But Glimpy and his friends, led by Mugs (Leo Gorcey), don't know about the whole "haunted" thing and decide that Jack must somehow be ashamed of the house, which he says needs fixing up. So the guys agree to fix it up as a surprise to the newlyweds. Only for wacky reasons, they end up in the wrong house, because it's apparently the wrong house which is said to be haunted. Or something. Anyway, there are wacky hijinks. Let's be honest. These are familiar wacky hijinks. Probably half the people I named up there have encountered them. Someone, in this case Bela Lugosi, is faking the haunting of a house so no one will go near it, allowing in this case Bela Lugosi to perpetrate a crime, in this case printing illicit Nazi propaganda, without anyone's being the wiser. It's worth noting that, in these movies, everyone believes in ghosts except the characters you're supposed to be laughing at for their stuffiness. As odd as it is to think that Jack is bringing his new bride back to the house sight unseen, it's even weirder to think that he can be talked into selling it by a claim that it's haunted. He isn't even a little suspicious about the motivations of the person making the claim, which you'd think he would be. But no, we have to have things appearing and disappearing, and we have to have secret passages. And so forth. We have a pattern here, and there's no getting around that by the simple application of logic. This is actually the second movie I've watched today from the same year--I don't have much to say about [i]Destination Tokyo[/i] other than "look, that's Cary Grant in a submarine"--and it rather shows the limitations the studios were working under at the time. They were limited in resources, and most of their leading men were off at war. (Cary Grant was considered too old and too valuable to the war effort because he was raising money and morale.) Ava Gardner is, here, in her first credited role, and while Rick Vallin worked steadily for twenty years, it wasn't much in things anyone has heard of. To the extent that one of his "known for" movies on IMDB doesn't even have the poster displayed. Bela Lugosi ([i]way[/i] too old to fight) was working steadily, but his presence had long been the sign of a B-picture. This, however, was not an era for A-pictures, because the world was otherwise occupied. Though this movie is only explicitly about the war as a cheap plot device, the war was still important behind the scenes. I would imagine that most people have their favourite East End Kids pictures, of those who have watched more than one, but there are fewer and fewer people who have watched more than one as time goes by. Yesterday, I was reading someone's ridiculous list of "the 499 Greatest Actors of All Time" (thereby stretching "great" like Silly Putty), and the thing which surprised me most about it was how many of those actors were people even I had to look up--and there were a lot that I had to identify for Graham. I take a certain amount of smug pleasure in the fact that most of my favourite actors are dead, more than a few dead before I was born. At the same time, though, there's something a bit lonely about it. I can't really discuss whether Paul Muni belongs on such a list or not with most people, because most people have no idea who he was. (The original Scarface.) That being said, I must confess you aren't missing much if you've never heard of the East Side Kids.
Edith Nelson
I first heard about "Ghosts on the Loose" while reading Lee Servers biography, "Ava Gardner: "Love is Nothing". Server described the film (which was Ava's first credited substantial role) as a rushed mess of a production. He continued to state that the picture garnered cult popularity in the 1940s because "teenage doofuses" would catch repeat viewings under the belief that Bela Lugosi blurted out the "s-word" while sneezing during a particular scene. This, of course, was at a time when the Hay's code was in full effect and such transgressions were unheard of in the movie industry. So, in a gesture that would make any "teenage doofus" proud, I rushed to find the film and see the the shoddy swear-laced piece of cinema for myself (Having now seen the film, I agree with Server in believing that Lugosi, a man of Hungarian descent, simply said the Hungarian word for "Achoo!"). Bela Lugosi, in an odd comedic turn, plays a Nazi sympathizer who hides his fascist propaganda in the cellar of a house that a group of bonehead teenagers (East Side Kids) were cleaning up for two newlyweds (Gardner and Vallin). Yes, that is the entire summary of the plot in a single sentence. The movie was a continuation of the "East Side Kids" series of films. They were a group of young adults who behaved like a lame blend between The Three Stooges and Abbott and Costello. This is not to say that I did not find them somewhat amusing. Although much of their comedy has aged worse than expired milk, I did chuckle at a few gags, and was kept mildly engaged and entertained throughout. Granted, a healthy portion of my amusement generated from the film's inferior quality. The picture was certainly the harried mess Server claimed it was. Director William Beaudine (known famously as "One-Take" Beaudine) blew through the filming process at break-neck speed, completing it in just six days. The quality of this method of shooting is painfully apparent. He overuses the fade in a vain attempt to disguise is squalid style. In an early scene Leo Gorcey, the Moe-like stooge in the East Side Kids, dropped a piece of sheet music. As the camera cuts from and then back to him, he is seen with the sheet music magically back in hand. Blunders like this along with "One-Take's" choppy unimaginative filming can be seen throughout the film. The only advantage to Beaudine's hasty shooting was that it didn't give Ava Gardner time to reflect on her nervousness ans self-consciousness. At this stage in her career, she was still a bit uncomfortable around the camera. Coming from the tobacco fields of North Carolina, she never really did much acting or performing until she signed with MGM. Unfortunately for Ava, her lack of experience sticks out like a black eye. Her performance, as on of the East Side Kid's soon-to-be-wed sister, was about as bland and stiff as a stack of plywood. In her defense the role was anything but ideal. Outside of fawn-eyed gazing at her leading man (Rick Vallin), she hardly had anything to do. Fans of the East Side Kids may enjoy this cinematic blunder, but there is little for anyone else to like. But if you have a desire to see C-Movie filming quality, a very young (and undernoursihed) Ava Gardner sleep-walking through a role, Bela Lugosi sneezing a word that vaguely sounds like swearing, or the antics of the East Side Kids, then this film is for you!
Doc Martin
Ghosts on the Loose Quotes
There are no approved quotes yet for this movie.