Girl Play
(2004)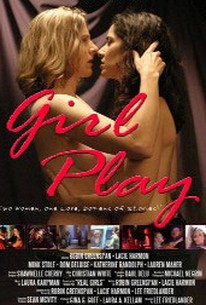 Movie Info
Actresses Robin Greenspan and Lacie Harmon used the ups and downs of their real-life romance as the inspiration for this comedy drama about two performers whose real lives are beginning to mirror their latest roles. Robin (Greenspan) is an actress who has been in a deeply committed relationship with Audrey (Katherine Randolph) for six years, while fellow thespian Lacie (Harmon) is not much on commitment and tends to tire of her lovers once the initial excitement wears off. Robin an Lacie have been cast opposite one another as lesbian lovers in a play directed by the wildly flamboyant Gabriel (Dom DeLuise). While they don't get along well at first, an undeniable chemistry develops between Robin and Lacie, and before long they discover they've fallen in love. However, this doesn't entirely happy news; Robin has to decide if she wants to dump Audrey for Lacie, while Lacie has to choose between the freedom of the single life and her feelings for Robin. Based on the play +Real Girls, Girl Play also features Mink Stole as Robin's mother, who has little understanding of her daughter's sexual orientation.
Critic Reviews for Girl Play
Audience Reviews for Girl Play
[font=Century Gothic]In "Girl Play", Robin(Robin Greenspan) and Lacie(Lacie Harmon) are two actresses who are rehearsing for a play but Robin's longtime significant other, Audrey(Katherine Randolph), is less than thrilled with the intimacy between the characters. That is nothing compared to her reaction when she finds out about the publicity photo for the play - one of Robin and Lacie topless...[/font] [font=Century Gothic]"Girl Play" is a slight but sweet movie adapted from a play by the two stars, the remnants of which are in evidence such as the dueling monologues where they address the audience directly. The rest of the movie is filled with vignettes about not only the play, but also about relationships where the movie provides some good insight.[/font]
Girl Play Quotes
There are no approved quotes yet for this movie.