The Golem (Der Golem, wie er in die Welt kam)
(1920)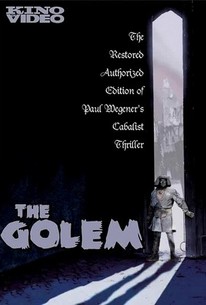 Movie Info
Actor-director Paul Wegener made three films built around the mythical creature of Jewish legend: Golem was released in 1914, and a sequel of sorts, Der Golem und die Tänzerin, came out in 1917. This is the one film which has survived and is regarded among the landmarks of early German expressionism. In medieval Prague, Rabbi Loew (Albert Steinruck) observes the stars and concludes that trouble is brewing for his people. When the emperor issues a decree threatening the expulsion of Jews from the city, the rabbi, a master of magic, activates the Golem, a monstrous clay figure, to help save his congregation. The rabbi's daughter, Miriam (Lyda Salmonova, who also played this role in the 1914 film) is courted by two men, Famulus (Ernst Deutsch), the rabbi's assistant, and Knight Florian (Lathar Menthel), a messenger for the emperor. Famulus re-activates the Golem to vanquish his rival, and the monster goes berserk. Stylized sets and moody cinematography elevated Der Golem above the standard features of its time, its central figure has been the focus of a number of films produced in various countries, and the name has become a generic descriptor for any lumbering creature which can't be easily controlled. ~ Tom Wiener, Rovi
Critic Reviews for The Golem (Der Golem, wie er in die Welt kam)
Audience Reviews for The Golem (Der Golem, wie er in die Welt kam)
a strange and wonderful jewish folktale is brought to life in one of the most beautiful and influential german expressionist films. it's impossible not to think of james whale's 'frankenstein' while watching this
Stella Dallas
Super Reviewer
This movie is pretty magical for it's time, and the plot seems interesting at first, but I didn't understand how and if the Golem saved the jews in the end. It's not very clear.
½
The film's special effects, musical score, and editing make it an easy entry in the classic horror genre. However, it takes a back seat when compared to its' peers. The vision of actor Paul Wegener clomping about in platform heels and starched wig is comical rather than an horrific sight by modern audiences, but The Golem is a good story and Wegener and Carl Boese's direction is exceptional. The images are striking and many scenes will resonate in the mind, made all the more powerful through silent cinema.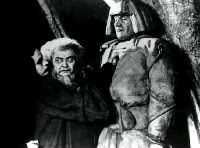 El Hombre Invisible
Super Reviewer
The Golem (Der Golem, wie er in die Welt kam) Quotes
There are no approved quotes yet for this movie.