The Gun in Betty Lou's Handbag
(1992)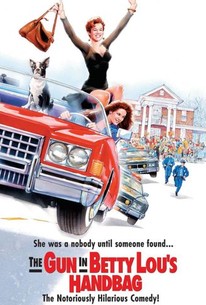 The Gun in Betty Lou's Handbag Photos
Movie Info
Penelope Ann Miller's delightful performance as the shy, part-time librarian Betty Lou Perkins is the saving grace of this comedy from Touchstone Pictures. Betty Lou is the neglected wife of small-town police detective Alex Perkins (Eric Thal). She soon feels even more neglected when Alex can't make their anniversary dinner because he has to investigate a brutal motel room slaying. Taking her dog for a walk, Betty Lou finds a gun by the river's edge that just happens to be the missing murder weapon in Alex's murder investigation. In order to get some attention, she announces that she was the one who committed the murder. Hauled behind bars, Betty Lou gets some quick assertiveness training from her cell-mate, hard-boiled prostitute Reba Bush (Cathy Moriarty). She also becomes an instant media celebrity, with crowds clamoring around her and television news reporters elevating her to legendary status. But Alex doesn't believe she committed the murder (she tells him the dead man was her lover) and continues investigating the crime. Her husband is not the only one who's suspicious -- the FBI wants to use her to lure crime lord Beaudeen (William Forsythe), who they suspect actually committed the murder, out into the open. It turns out the FBI is right; Beaudeen killed the motel room victim because he planned to blackmail him with an incriminating cassette. Beaudeen is convinced that Betty Lou has the tape and musters his forces to get it from her one way or another.
Critic Reviews for The Gun in Betty Lou's Handbag
Audience Reviews for The Gun in Betty Lou's Handbag
A great cast in the service of a silly script.
The Gun in Betty Lou's Handbag Quotes
There are no approved quotes yet for this movie.