Hal
(2018)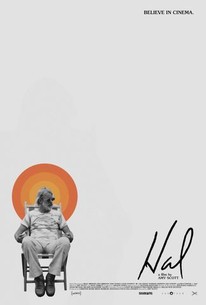 TOMATOMETER
AUDIENCE SCORE
Critic Consensus: No consensus yet.
Movie Info
Although Hal Ashby directed a remarkable string of acclaimed, widely admired classics throughout the 1970s-HAROLD AND MAUDE, THE LAST DETAIL, SHAMPOO, COMING HOME, BEING THERE-he is often overlooked amid the crowd of luminaries from his generation. Amy Scott's exuberant portrait explores that curious oversight, using rare archival materials, interviews, personal letters, and audio recordings to reveal a passionate, obsessive artist. Ashby was a Hollywood director who constantly clashed with Hollywood, but also a unique soul with an unprecedented insight into the human condition and an unmatched capacity for good. His films were an elusive blend of honesty, irreverence, humor, and humanity. Through the heartrending and inspiring HAL, you feel buoyed by Ashby's love of people and of cinema, a little like walking on water.
News & Interviews for Hal
Audience Reviews for Hal
½
THE GREAT ASHBY - My Review of HAL (3 1/2 Stars) The very fertile 1970s brought us seminal work from Francis Ford Coppola, Terrence Malick, Steven Spielberg, George Lucas, Martin Scorsese, Michael Cimino, Peter Bogdanovich, George Roy Hill, Stanley Kubrick, Milos Foreman, Norman Jewison, Sidney Lumet, William Friedkin, Igmar Bergman, Luis Buñuel, François Truffaut, and yes, Woody Allen, among many others. No accounting of that period would feel complete without mentioning Hal Ashby, with this stunning run of films: HAROLD AND MAUDE, THE LAST DETAIL, SHAMPOO, BOUND FOR GLORY, COMING HOME, and BEING THERE. First time Director, Amy Scott, who has enjoyed a prior career as an editor has clearly fashioned HAL as a love letter to this one-of-a-kind filmmaker, which may only please fans, but you'd have to literally be dead to not appreciate his work. Born in Utah in 1929 and dying way too young at age 59 in 1988, Hal Ashby began his career as an editor himself, winning his sole Oscar for his work on Norman Jewison's IN THE HEAT OF THE NIGHT. Their friendship proves to be the biggest and most heart-warming surprise of this documentary, with Jewison's emotionally charged recollections of their clearly blissful relationship. Their letters back and forth to each other have a funny and sweet tenderness, and Jewison helped launch him as a director with his first feature, THE LANDLORD. Rather than direct it himself, Jewison, in a rare showing of generosity in this hellhole of a town, gave the film to his buddy. It's clear that Ashby, the ultimate bearded, weed-smoking hippie that he was, had a distinctive voice even from his first film. Ashby's style brought out equal amounts of absurdity, social commentary, rebelliousness, and heart, which admittedly makes for strange bedfellows with the aforementioned. Yet, there it was, an unlikely mixture of tones which produced classic after classic. Thanks to a generous amount of recordings of Ashby as well as interviews with his colleagues and admirers, HAL captures the modest maverick that he was while celebrating a wonderful yet sadly short career. Conspicuously absent from the mix, however, are Jack Nicholson, Warren Beatty, and Bud Cort, the latter two seen only in footage from Ashby's funeral. It's a shame since these actors did some of their best work with Ashby. Still, it's great to hear from the likes of Jane Fonda, Jon Voight (whose current affiliations don't quite jibe with the anti-war sentiments he espoused as a character and as a proponent of his work in COMING HOME), Lee Grant, and Louis Gossett Jr. Originally tapped to direct TOOTSIE, we're treated to some fascinatingly odd Dustin Hoffman screen tests. Ashby is probably extremely grateful he didn't ultimately make that notoriously difficult film. I can't say that HAL is essential viewing. It's truly a gift to fans, but his films? E-S-S-E-N-T-I-A-L!! Do yourself a favor and devour his 1970s films and then watch HAL. Your life will feel complete.
Glenn Gaylord
Super Reviewer
Hal Quotes
There are no approved quotes yet for this movie.