Half a Loaf of Kung Fu (Dian zhi gong fu gan chian chan)
(1980)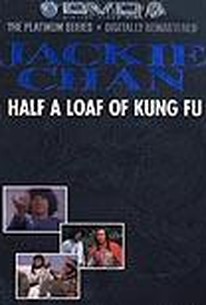 AUDIENCE SCORE
Critic Consensus: No consensus yet.
Half a Loaf of Kung Fu (Dian zhi gong fu gan chian chan) Videos
Half a Loaf of Kung Fu (Dian zhi gong fu gan chian chan) Photos
Movie Info
Originally made in Hong Kong in 1979, Half a Loaf of Kung Fu was released in the U.S. in 1985. The inimitable Jackie Chan heads the cast of this martial-arts period piece. A valuable emerald jade is stolen when the gem's supposedly invulnerable Sern Chuan bodyguards are bushwhacked by bandits. Only Chan escapes the carnage relatively unscathed. In his usual moralistic, violence-only-when-necessary fashion, Chan sets about to make mincemeat of the bad guys.
Critic Reviews for Half a Loaf of Kung Fu (Dian zhi gong fu gan chian chan)
There are no critic reviews yet for Half a Loaf of Kung Fu (Dian zhi gong fu gan chian chan). Keep checking Rotten Tomatoes for updates!
Audience Reviews for Half a Loaf of Kung Fu (Dian zhi gong fu gan chian chan)
½
A cartoonish chopsocky intended as a send-up of the genre starring Jackie Chan as a stray with only a rudimentary understanding of the arts that he over compensates with rambunctious acrobatics. Growing tired of the persistent pestering for more creative input and frustrated by the consecutive lack of revenue from their half-dozen collaborations producer Lo Wei once again summoned Chen Chi Hwa to babysit Lo's would-be Bruce Lee. Where their proceeding endeavor ("Snake and Crane Arts of Shaolin") acted as the gestation for Chan's astonishing physicality and unique impromptu fighting style "Half a Loaf of Kung Fu" gave birth to Chan's predetermined on-screen persona: the clown prince of kung fu. From the film's start -- a parody of the martial arts demos often seen during the opening credit crawls of old school kung fu flicks -- "Half a Loaf of Kung Fu" is meant as a joke and Chan has since admitted as much but is it a good one? That, again, depends on your threshold for the Cantonese's predilection towards camp in their humor but it's hard to argue "Half a Loaf of Kung Fu" doesn't at least deliver on its promise of said martial art here competitively choreographed by Chan and of which there is an abundance. Nevertheless, at least one person in particular was unamused by Chan's innovation Producing from afar Lo Wei wasn't privy to the film's details but once he screened "Half a Loaf of Kung Fu" he immediately had it shelved. The hotheaded filmmaker's conflict-resolve was "Spiritual Kung Fu" (1978) a tasteless kung fu-comedy with Lo at the helm that at a certain point finds Jackie Chan urinating on a group of miniature spirits. Through a court ruling Lo maintained rights to "Half a Loaf of Kung Fu" and released it during the summer of 1980 in the wake of "The Young Master" Chan's first picture for Golden Harvest Studios where the up-and-coming martial artist fled following his breach of contract with the triad-connected Lo Wei Filming Company.
Adam Laidig
Half a loaf of Kung Fu tells the story of Jiang (Jackie Chan - or in this case Jacky Chan) and his quest to find a job. With no luck initially, Jiang stumbles across a wanted man. The man has been killed and Jiang cashes in on the bounty whilst posing as the man who killed him (The Whip hero). All kinds of trouble ensues and Jiang ends up learning Kung-Fu on his travels through the help of The Beggar Master. All this comes in handy later on when Jiang must defend a cargo of precious items that have drawn the attention of several clans of bandits. Learning a martial art and polishing that ability to a high level is a long, hard and enduring process -much like watching this movie. At times I didn't think I would make it out alive. The initial scenes seem to cover a little known love triangle. The marriage of slapstick comedy, martial arts and strobe effects. It seems to be less like the opening of a kung-fu movie and more like experimental cinema. Those who are familiar with Jackie Chan will know his style well. He is very much a clown with morals and portrays this image throughout his vast filmography. With this movie we are at the start of his career and are in many ways watching that style form. The polished performances he has delivered in movies like Rush Hour, Shanghai Noon and the like are years ahead of what we see in Half a Loaf. I must add that although this is before Jackie fully mastered his style and craft we are actually after some of his greatest physical displays. I personally much prefer Snake in the Eagles Shadow and Drunken Master to anything else he has done. The demanding training scenes and displays of martial arts are of a much higher standard. Although comedy has been a big part of everything Jackie has done I feel that Half a Loaf was released at a transitional time for Jackie Chan. His name was certainly still developing. From Chan Yuan Lung to Ching Yun to Chen Yuan Lung to Chen Yuen Lung to Jacky Chan and back to Chen Yuan-lung and so on and so on before finally settling on Jackie Chan around 1982 - 3 with Dragon Lord and Winners & Sinners. While we are on the subject of humour the comedy seen in Half a Loaf isn't funny at all but rather painfully lame. I must admit that I laughed at the Popeye scene but for all the wrong reasons. It comes at an unexpected moment and I can't believe it made the final cut. The fight scenes and all martial arts in the film are less than impressive, but you have to really concentrate to notice this as you will probably be too preoccupied with the poor and very amateur filming and cinematography. I think I can summarise the whole movie as a mathematical sum: Martial Arts + Laurel and Hardy - all humour x Amateur Video = Half a loaf of Kung-Fu I wouldn't recommend this film to anyone unless they are interested to see some of Jackie Chan's earlier less memorable work and believe you, me there are enough fanatics out there to watch this movie 'til the DVD runs dry just because Jackie Chan is on screen. He is an amazing, much loved and very popular man and rightly so, but I can't help but feel the contrary about this film.
James Crawford
Super Reviewer
½
11/09/2010 (LAPTOP/DVD)

"Jackie Chan's" first attempt that was canned because traditional Chinese heroes were usually staunch, in this movie the star is a clown who manages to waste all the staunch dudes by fluke.

This is technically the beginning of "Jackie Chan's" style he created in the martial-art genre which may of not got the props back then but is now a legendary trademark of "Chan's" work. It's not the best, but it is interesting for me to see where the kung-fu comedy fusion began.

It is full of comedy and skillful Martial-art sequences that are very entertaining to watch and the story is some-what okay I guess but all in all it's not that bad. I watched this purely for appreciation and may not be for you.
EightThirty .
Super Reviewer
Half a Loaf of Kung Fu (Dian zhi gong fu gan chian chan) Quotes
There are no approved quotes yet for this movie.
Discussion Forum
Discuss Half a Loaf of Kung Fu (Dian zhi gong fu gan chian chan) on our Movie forum!