Happily N'Ever After 2: Snow White - Another Bite @ the Apple
(2009)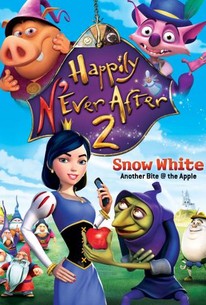 AUDIENCE SCORE
Critic Consensus: No consensus yet.
Happily N'Ever After 2: Snow White - Another Bite @ the Apple Videos
Happily N'Ever After 2: Snow White - Another Bite @ the Apple Photos
Movie Info
Snow White is getting spoiled, and in this sequel to Happily N'Ever After, she must learn the value of helping others if she hopes to prevent her father from wedding a witch who seeks to control the entire kingdom. Once again, Mambo and Munk have tipped the scales of good and evil. Now, as a teenaged Snow White stops helping the peasants in order to hang out with pals Red Riding Hood, Goldilocks, and Little Bo Peep, the scheming witch Lady Vain makes a grab for power with a little help from Rumpelstiltskin. By tricking Snow White into spreading rumors about the townspeople, the dubious duo embarrasses the princess so badly that she has little choice but to flee from town. Perhaps by rebuilding the Three Little Pigs' homes and getting reacquainted with her old friends the Seven Dwarfs, the disgraced princess can summon the courage to foil the wedding plans, restore the balance of good and evil, and finally become the ruler that her kingdom so desperately needs.
Rating:
PG
Genre:
, , ,
Directed By:
Written By:
In Theaters:
On DVD:
Runtime:
Studio:
Cast
Critic Reviews for Happily N'Ever After 2: Snow White - Another Bite @ the Apple
All Critics (1) | Fresh (0) | Rotten (1) | DVD (1)
If you're one of those people who hated the Happily N'Ever After theatrical release, you'll probably be likewise annoyed with this film.


Audience Reviews for Happily N'Ever After 2: Snow White - Another Bite @ the Apple
True beauty comes from helping others. Snow White is princess of all the land. Unfortunately, her mother died shortly after her birth. Her father never remarried and does his best to raise Snow White so she can eventually take over his throne. Unfortunately, she grows up into a teen that resembles the Kardashians that is more interested in clubbing, VIP sections, and partying with her friends than being good to her people. A woman who wishes to marry his dad and take the throne paints Snow White in a dark light in hopes of getting the king desperate enough to look for a wife. Will the King cave into the plan? "Am I beautiful?" "What do you think?" Steven Gordon (Ultimate Avengers and The Condors) and Boyd Kirkland (Batman: Mask of the Phantasm and Batman & Mr. Freeze: Subzero) collaborate to deliver Happily N Ever After 2. The storyline for this picture is a bit unique and strange. The animation is fairly good and well done. The voices are not provided by any main stream stars. "It's good for the skin." We came across these films on HBOGO so I decided to give them a shot with my daughter. They are pretty good and she definitely enjoyed watching them. I can't say this is a must see or worth adding to your collection, but they are unique ways to display characters you already know. I recommend watching these once with your children. "Find me a queen!" Grade: C-
Kevin Robbins
It's been several years, I think, since I first watched this film. So I can say this with complete and honest certainty: This is the worst film I have ever seen in my life. We turned it off in disgust within 20 minutes. It was so bad, one scene is literally burned into my brain. Do. Not. Watch. Ever.
Tyrone Rakasar
This is one of the worst movies of all time. The writing, animation, and acting was all stupid and sucky. This was just horrible 0.5/10
Noah Weinstein
Discussion Forum
Discuss Happily N'Ever After 2: Snow White - Another Bite @ the Apple on our Movie forum!
News & Features