Happy, Happy
(2011)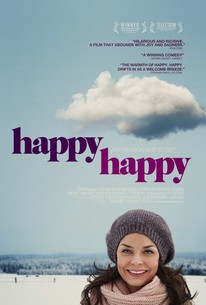 Movie Info
Family is the most important thing in the world to Kaja. She is an eternal optimist in spite of living with a man who would rather go hunting with the boys and isn't interested in having sex with her anymore because she "isn't particularly attractive." Whatever. That's life. But when "the perfect couple" moves in next door, Kaja struggles to keep her emotions in check. Not only do these successful, beautiful, exciting people sing in a choir, they have also adopted a child - from Ethiopia! These new neighbors open a whole new world to Kaja, with consequences for everyone involved. And when Christmas comes around, it becomes evident that nothing will ever be like before - even if Kaja tries her very best. -- (C) Magnolia
News & Interviews for Happy, Happy
Critic Reviews for Happy, Happy
Audience Reviews for Happy, Happy
An attempt at quirkiness...kind of failed. The movie itself wasn't bad, but it just seemed pointless. Apparently, someone suggested add some guys that sing a little diddy every so often, and people will love it, and say it is quirky. Nope...
Cynthia S.
Super Reviewer
½
In "Happy, Happy," Elisabeth(Maibritt Saerens), a lawyer, and Sigve(Henrik Rafaelsen) move with their adopted son Noa(Ram Shihab Ebedy) to a small town for a fresh start after Elisabeth's marital indiscretion. Aside from their volunteering for the local choir, they are warmly welcomed by neighbors Kaja(Agnes Kittelsen) and Eirik(Joachim Rafaelsen) who invite them over for game night. Then, Elisabeth and Sigve reciprocate in a night that soon turns confessional before Kaja gives Sigve a blow job. You know you're in deep trouble as a non-musical film if the best part is the music, especially in the case of "Happy, "Happy" where the entertaining interludes performed by a quartet prove to be about the only reasons to watch this very murky film. Otherwise, it takes forever for the slim plot to kick in, as the movie without a true point of view is unsure of whether or not it is a comedy. To be honest, it is possible something got lost in translation or I didn't understand some Scandinavian cultural attitudes. That still can't explain the weird interaction between the boys which goes far beyond bullying.
½
Kaja (Agnes Kittlesen) may not be the brightest bulb in the pack, but she is a delightful hausfrau who only wants to know that she is valued and loved. Her husband, Eirik (Joachim Rafaelsen), is a brute of a man, who dismisses her desires and aspirations and is raising his son to be just like him. So when the perfect couple, Sigve (Henrik Rafaelsen) and Elisabeth (Maibritt Saerens) move in next door with their adopted son, Kaja begins to understand just how bleak her life is. As events unfold, we see that there is a definite emotional train wreck in everyone's future, and those affected are powerless to avoid the looming disaster. Secrets, however, have a way of revealing themselves and although this viewer found the situation uncomfortable to watch, he could not tear himself away, either. Kaja comes off as a much stronger, more aware and resilient creature than the opening scenes would have us believe. By the end, we know that she will survive. Not only that, but the way is now open for her to thrive.
Mark Abell
Super Reviewer
Happy, Happy Quotes
There are no approved quotes yet for this movie.