Harry & Snowman
(2016)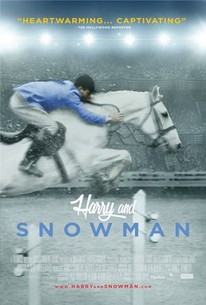 Movie Info
Dutch immigrant, Harry deLeyer, journeyed to the United States after World War II and developed a transformative relationship with a broken down Amish plow horse he rescued off a slaughter truck bound for the glue factory. Harry paid eighty dollars for the horse and named him Snowman. In less than two years, Harry & Snowman went on to win the triple crown of show jumping, beating the nations blue bloods. They were famous for their day and traveled around the world together. Their chance meeting at a Pennsylvania horse auction saved them both and crafted a friendship that lasted a lifetime. Eighty-six year old Harry tells their Cinderella love story firsthand, as he continues to train on today's show jumping circuit.
News & Interviews for Harry & Snowman
Critic Reviews for Harry & Snowman
Audience Reviews for Harry & Snowman
Partnership flourished between Harry the man and Snowman the lovely horse. Modern horsemanship would do well to watch and re-learn - the horse with the beautiful action, allowed to express itself and move freely; soft hands and reins, soft contact; just a thick snaffle bit; not even a drop noseband; and what a pleasure they were to watch, Harry the rider sitting quietly, both perfectly relaxed, and producing harmony in motion. And their myriad fans loved it. No heart attacks, no horrible injuries, no overbending, no sick short lungeing with the horse strapped into a constricted pose, no fighting. Snowman, a character in his own right, an old soul, intelligent and possessing a sense of humour, was respected, and had a happy life away from the showring, too; he was included in the lives of Harry's family and eight children, right up to the very touching ending. As Harry recognises, Snowman provided all of them with security, careers and a prosperous future. Harry & Snowman represented the American dream, which they created for themselves out of understanding and true friendship.
Harry & Snowman Quotes
There are no approved quotes yet for this movie.