Heaven Knows Mr. Allison
(1957)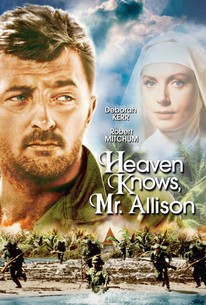 Heaven Knows Mr. Allison Photos
Movie Info
A two-person character study directed by John Huston, Heaven Knows Mr. Allison stars Robert Mitchum as a World War II Marine sergeant and Deborah Kerr as a Roman Catholic nun. Both nun and sergeant are marooned on a South Pacific island, hemmed in by surrounding Japanese troops. Mitchum does his best to make the nun's ordeal less painful, but is torn by his growing love for her. Kerr is equally fond of Mitchum, but refuses to renounce her vows. Their unrealized ardor mellows into mutual respect as they struggle to survive before help arrives. Based on a novel by Charles K. Shaw, Heaven Knows, Mr. Allison was coproduced by Eugene Frenke, who later filmed a low-budget variation on the story, The Nun and the Sergeant (62), which starred Frenke's wife Anna Sten. ~ Hal Erickson, Rovi
Cast
Critic Reviews for Heaven Knows Mr. Allison
Audience Reviews for Heaven Knows Mr. Allison
One of the more interesting love stories ever, a Marine corporal and a Catholic nun are stranded together on a deserted island in the Pacific towards the end of WWll. With Bob Mitchum as the grunt and Deborah Kerr as the nun you got yer whole blamed chemistry set right there, so much chemistry that for moments in the film the whole war itself seems puny and insignificant. John Huston's the writer/director here and he plays true to both of the lovers, never going for the easy answers or for the hearts and flowers, so respect grows, and it grows in glorious Cinescope. Don't get me wrong, there's some war in here, too, but this is not a typical war film, no, not at all. It's about two lonely people who find each other while there happens to be a war going on.
Kevin M. Williams
Super Reviewer
As "cute" as a war movie can get. Mitchum and Kerr feed off of each other well as two unlikely companions thrown together by war and forced to cooperate.
John Ballantine
Super Reviewer
During World War II, a Marine corporal is shipwrecked on a Pacific Island, whose only other inhabitant is a Catholic nun. Essentially a two-character play set against a tropical background, this is a triumph for all concerned. Stars Robert Mitchum and Deborah Kerr give such convincing, understand performance that you almost feel as if you are an unwanted observer, especially as their two so-very-different character begin to fall in love. John Huston may have been one of the most erratic film directors, but, with the right cast and material, he could achieve greatness, as he does here.
Dean McKenna
Super Reviewer
Heaven Knows Mr. Allison Quotes
There are no approved quotes yet for this movie.