Higanjima
(2009)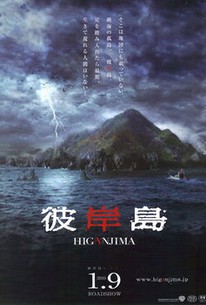 AUDIENCE SCORE
Critic Consensus: No consensus yet.
Higanjima Photos
Movie Info
Akira (Hideo Ishiguro) travels to a remote island filled with vampires in order to rescue his older brother Atsushi.
Rating:
NR
Genre:
, ,
Directed By:
Written By:
Runtime:
Watch it now
Cast
Critic Reviews for Higanjima
All Critics (2) | Fresh (0) | Rotten (2)
Very broad, way too talky, and sometimes too damn goofy for its own good.

the flat characters here are even more lifeless than their undead opponents, making this one strictly for the original comicbooks' more obsessive young fans.

Audience Reviews for Higanjima
One line summary: Teen aids brother overthrow vampires on isolated Japanese island. ------------------------------------------------------------ The opening sequence shows a lone vampire killer successfully plying his hobby. This is on some island where there are many vampires. The VK does in several, then talks to a man who is in the process of turning to a vampire. Before they meet, the defenseless man spoke of a woman who 'tricked' him into coming to the island. Next sequence is at a high school. Akira the tall and confident talks to his friend Pon who can't defend himself against his brother. Akira gets challenged by some local bully (and his gang of eight or so) whose sister claims Akira ditched her. Great. High school nonsense that has brutal consequences. Akira wisely runs for it, and manages to get off campus. Rei saves him from the chase, and offers him a challenge of sorts. Also, Rei assures Akira that his brother is alive and well. Akira's parents tell him that the family fortunes are not going well. Akira volunteers to work instead of save for college. They ignore him, wishing only that the older brother Atsushi had not gone missing, wailing and moaning. Akira and his friends try to find Rei. They find vampires instead, and do not do well against them. His older friend Ken gets changed, Yuki gets roughed up, and Akira takes one huge sequence of beatings. Rei appears and turns the tide. She starts explaining Higanjima Island and the vampires there. Akira decides to go to the island; the others are not in favor of it. There are some changes of heart overnight. So a team of gawky teens goes to fight a horde of vampires on an island. They find a village, which seems deserted. The lights come on, soon they are surrounded by vampires, and Rei has vanished on them. This is reminiscent of the opening sequence. Rei has an earnest discussion with Master Miyabi, the leader of the vampires. He is not particularly happy with her, but she is his plaything, and he wants to taste the hate and fear in her blood. The vampires outside start to eat the teenaged group. The first is Ken, who will be lab rat. The teens get free after one of the vampires drops a key. Yuki, Ken, and Akira find Atsushi, who is not that pleased to see them. Soon they meet up with two other escapees; Pon is not with them. The larger group goes to a safe place to sleep that Atsushi shows them. He does recon; they sleep, mostly. Pon finds them, and starts venting. He has plenty to vent as an omega male. Plus, now he's a vampire. More vampires show up; Atsushi leads them away. Hm, the teens did not find the weapons that they brought, and have not re-equipped themselves. Fighting and fleeing goes on. One of the flying vampires abducts Yuki. Akira handles that stupidly, but Atsushi comes up with a plan for rescuing her. First though, there is a long flashback to where Atsushi first came to the island (pre-vampires); he and his fiancee Ryoko implore her family to bless their union. At a local shrine, Atsushi unwittingly releases Miyabi, who proceeds to kill Ryoko. After that, the small group meets with the local resistance fighters. Meanwhile, Miyabi is concentrating on creating the 'perfect being,' whatever that might be. Nice, we have the setup for a more major battle to come. Atsushi, then Akira, set off alone to rescue Yuki. Rei joins them after a while. The odd vampire 'creations' get dispatched. Most of our heroes go home, but is it really over? (Sequel alert.) ------Scores------- Cinematography: 7/10 The camera work here reminds me of how stunningly beautiful visuals can be. The aspect is 2.35, which I like a lot, and the quality of the filming is high to go along with this. During rapid motion sequences, jerky camera movements are common. There was a high proportion of dark, low contrast footage toward the last third of the film. Sound: 9/10 On Netflix, this film comes in either Japanese or dubbed in English. One can switch back and forth on the fly. The Japanese sounds a lot better to my ear; the young men sound like young men. In the English dub, they sound like screeching chimps. Also the English dub is fairly poor for lip sync. The incidental music is incredibly loud; have your finger near the volume adjustment. Much of the incidental music is is lush and fine, even if loud. The sounds of the rain are nicely captured. Acting: 6/10 An adventure movie starring teenagers. Oi. The resistance group just seemed to be extras standing around for the most part. Screenplay: w/10 Which vampire rules were in place? The vampires seemed to go about in sunlight with some impunity, and what it took to kill one (destroy one?) seemed unclear. Rei's character was puzzling. It seemed that Miyabi, the teenagers, and the resistance all had sufficient reason to kill her on sight, yet that did not seem to be the case. Interesting juggling, there. SFX: 7/10 The winged vampires were very nicely done. Some of the later appearing monstrous creations were not nearly as impressive.
Ed Collins
½
Higanjima has got the makings of a thriller, but Tae-gyun Kim ends up with a dramatic and partially dark picture instead.
For a film that dances near the two hour mark, there is quite a bunch left unsaid. That means the story meanders its way to its prolonged final act. It's not that the events of the movie are irrelevant to its story, but there are times where things become melodramatic and/or difficult to take seriously.
The violence gets bloody when it needs to and that probably helps keep this film from derailing off the track. The action is passable, with some small potential seen in the swordplay, and some mediocre CG when utilized for some unexplainable creatures.
Hideo Ishiguro is one of the few cast members with a character that is sufficiently set up. Asami MIzukawa, Miori Takimoto, Tomohisa Yuge, and Koji Yamamoto are some of the supporting personnel with promising characters that suffer from limited build up.
Higanjima is a watchable movie. Just don't expect a masterful vampire spectacle.
Discussion Forum
Discuss Higanjima on our Movie forum!
News & Features