High Plains Drifter
(1973)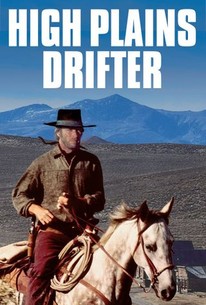 High Plains Drifter Photos
Movie Info
"Who are you?" the dwarf Mordecai (Billy Curtis) asks Clint Eastwood's Stranger at the end of Eastwood's 1973 western High Plains Drifter. "You know," he replies, before vanishing into the desert heat waves near California's Mono Lake. Adapting the amorally enigmatic and violent Man With No Name persona from his films with Sergio Leone, Eastwood's second film as director begins as his drifter emerges from that heat haze and rides into the odd lakefront settlement of Lago. Lago's residents are not particularly friendly, but once the Stranger shows his skills as a gunfighter, they beg him to defend them against a group of outlaws (led by Eastwood regular Geoffrey Lewis) who have a score to settle with the town. He agrees to train them in self-defense, but Mordecai and innkeeper's wife Sarah Belding (Verna Bloom) soon suspect that the Stranger has another, more personal agenda. By the time the Stranger makes the corrupt community paint their town red and re-name it "Hell," it is clear that he is not just another gunslinger. With its fragmented flashbacks and bizarre, austere locations, High Plains Drifter's stylistic eccentricity lends an air of unsettling eeriness to its revenge story, adding an uncanny slant to Eastwood's antiheroic westerner. Seminal western hero John Wayne was so offended by Eastwood's harshly revisionist view of a frontier town that he wrote to Eastwood, objecting that this was not what the spirit of the West was all about. Eastwood's audience, however, was not so put off, and an exhibitors' poll named Eastwood a top box-office draw for 1973. ~ Lucia Bozzola, Rovi
News & Interviews for High Plains Drifter
Critic Reviews for High Plains Drifter
Audience Reviews for High Plains Drifter
Eastwood at his most nihilistic and vicious. He comes out like an avenging ghost, a supernatural gunfighter collecting the souls of coward men for his return to the underworld. A feeling accentuated by an eerie musical score and strange oniric passages. An extremely satisfying cross between western and horror, well learnt craft from his masters Leone and Siegel.
Pierluigi Puccini
Super Reviewer
½
The Stranger fails to match up to The Man With No Name. But still it's a solid enough western flick. With a pinch of super-natural tone, High Plains Drifter is a gruesome blood-bathed ride, quite eery at times.
There's not many western/ghost stories in the movies despite the rich american tradition of the same ... and this tale of ominous revenge (a precursor to "pale rider") never fails to chill, time after time.
Kevin M. Williams
Super Reviewer
High Plains Drifter Quotes