Higher Learning
(1994)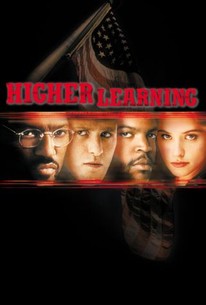 Movie Info
This drama examines the personal, political, and racial dilemmas facing a group of college freshmen as they begin their first semester at Columbus University. Malik (Omar Epps) is an African-American student attending on a track scholarship; academics are not his strong suit, and he goes in thinking that his athletic abilities will earn him a free ride through college. Fudge (Ice Cube), a "professional student" who has been at Columbus for six years so far, becomes friendly with Malik and challenges his views about race and politics in America, while Professor Phipps (Laurence Fishburne), a black man who teaches political science, firmly tells Malik that he will not be graded on a different standard either because of his race or his ability to run quickly. With Deja (Tyra Banks), Malik finds a girlfriend, a tutor, and a training partner all rolled into one. Meanwhile, Kristen (Kristy Swanson), a somewhat naive young woman from California, meets a boy named Billy (Jay R. Ferguson) after both have had too much to drink at a beer blast; Kristen soon becomes a victim of date rape and becomes involved with a campus feminist group to deal with the painful experience. While working with the women's group, Kristen gets to know Taryn (Jennifer Connelly), a strong but understanding woman who is also a lesbian, and she finds herself becoming attracted to her. And Remy (Michael Rappaport) is a confused young man from the Midwest who feels lost in the multi-cultural atmosphere of Columbus. He is approached by Scott (Cole Hauser), a member of a group of racist skinheads, who believe that Remy is a perfect candidate to help carry out his group's violent goals. Keep an eye peeled for Gwyneth Paltrow, who has a bit part as a student; rap stars Busta Rhymes, D-Knowledge and Mista Grimm also appear in supporting roles. ~ Mark Deming, Rovi
People Who Like this movie also like
News & Interviews for Higher Learning
Critic Reviews for Higher Learning
Audience Reviews for Higher Learning
a gripping story of race relations at the university level. thankfully most universities are beyond this, as is much of american society, but there are still places in the u.s. where this sort of tragic ignorance remains and this is a great film to address the issues. many only decent actors really stepped up their game for this film, and rapaport was simply sensational. an underrated and under appreciated film.
I remember in late '94 or early '95 when I and about 5 other students were helping out a teacher outside of class in her room, and she asked what our favorite movie is currently. Two said "Higher Learning," two (one of them me) said "Speed," and one said something else. I never saw this movie until 2007, and while I still prefer "Speed," this really was an excellent movie. It deals with so many touchy subjects and is like a coming of age drama/crime film. It reminded me of going to high school and college and the struggles we go through while trying to find ourselves during those times. Definitely see this one.
Jason Owens
Super Reviewer
John Singleton's ability to delve into multi-issues and stories creates a superb drama in the most unusual of settings - a university campus. Headed by a superb cast including Michael Rapport, Jennifer Connelly, Ice Cube, Omar Epps, and Kristy Swanson, Higher Learning visualises freshman's first step into the new world, and the many issues and lessons they have to deal and learn to make it. From racial, sexual, political and personal, this movie engages these issues in a maze of superb acting and lines, with credit going to Laurence Fishburne as the Political Science lecturer who steals his screen slots with his thoughtful, powerful and engaging presence and lessons. Ice Cube is also a standout, playing a ghetto student, obviously entrenched in the black stigmata and social status, but showing that he is also a refined and poltically savvy individual with heart and a will to learn and build his own ideals and apply it to the world around him.
Watch this for a good insight into uni or college life and the many views from many sides - a movie which works to create understanding - and show that not everything that needs to be learnt is in a classroom.

For those who are willing to open their eyes to understanding and objectivity - but as Fishburne states: this isn't about objectivity - you have to make a stand. Welcome to the real world.
Higher Learning Quotes
There are no approved quotes yet for this movie.