Honey, I Blew Up the Kid
(1992)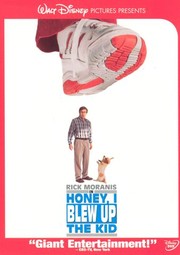 Honey, I Blew Up the Kid Trailers & Photos
Movie Info
In the sequel to Honey, I Shrunk the Kids, a bumbling but brilliant scientist (Rick Moranis) accidentally makes his two-year-old son into a giant who becomes larger every time he comes in contact with electricity. Though he and his wife try to control their son, the child inevitably escapes and wreaks havoc, eventually terrorizing the streets of Las Vegas.
more
Cast
News & Interviews for Honey, I Blew Up the Kid
Critic Reviews for Honey, I Blew Up the Kid
Audience Reviews for Honey, I Blew Up the Kid
Chris Weber
Super Reviewer
Sequel to the decent Honey, We Shrunk the Kids is a mediocre film that unfortunately doesn't deliver anything exciting and though the effects are good, it doesn't excuse itself for a predictable and stupid plot. I thought that the first film was decent, and fun for what it was, and though nothing great, it still was a fun little family film worth checking out. However, this sequel doesn't have anything exciting or fun that makes it worth seeing, and it fails to capture what the first one did. I thought that the original didn't need a sequel, and worked best as a standalone feature. This one recycles ideas, and makes it predictable for the viewer, thus it's a tiresome affair with a poor plot and poor acting that is quite forgettable. There could have been more effort put into this one, and instead of relying on old ideas, the filmmakers could have created something much better in terms of a sequel. As a whole, this film feels rushed and doesn't deliver anything good. The first flick was very much flawed, but it had a bit of charm to overcome its weaknesses to make at least watchable. The filmmakers simply cut corners on this entry and didn't take their time to come up with a really good plot. It's all the same, except now the kids are giants, nothing more to it. That's really the only difference here. Skip it along with the third part if you enjoyed the first, as it doesn't have any good content in terms of great gags, convincing story and good acting. Everything has been done before and now the filmmakers are going through the motions in trying to create something fun, but they fail.
½
I watched this movie a lot when I was a kid, I thought it was so cool that that little kid got to be like king kong. This is a funny and entertaining family film, but it could be better, I think, especially the corny dialogue. The first movie was much better, I recommend watching that one before this one.
Discussion Forum
Discuss Honey, I Blew Up the Kid on our Movie forum!
News & Features