The House on Sorority Row
(1983)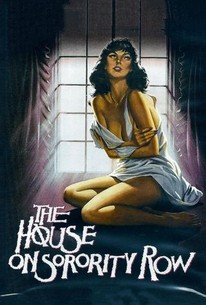 The House on Sorority Row Photos
Movie Info
Mark Rosman broke away from mentor Brian DePalma to direct this slasher flick, about a group of sorority girls who hatch a scheme to knock off their oppressive housemother, only to find themselves stalked by another killer.
Critic Reviews for The House on Sorority Row
Audience Reviews for The House on Sorority Row
The House on Sorority Row is an overlooked Slasher that deserves to be rediscovered by genre fans. The film relies on the typical genre elements which we've seen in many other films, but is nonetheless a worthwhile film that is a forgotten film in a genre where numerous films have been overlooked. This is such a film. Although not perfect, The House on Sorority Row has an interesting story that is reminiscent of films like Terror Train and Prom Night. The performances are typical of the genre, and none really stand out. However the kill scenes are great and there is plenty to offer to fans. I felt that this was an overlooked film in the Slasher genre and I feel that horror fans should definitely watch this one as it is far better than most Slasher outings of the era. Director Mark Rosman crafts a film that takes its tie to build up the tension, and it's something that works well and separates this film among others in the genre. The film could have used a higher body count, but that's not entirely a bad thing because Rosman opts to create a tense, suspenseful film, which distinguishes itself in the genre as being a different. Instead of the usual slash and kill, you get something atmospheric, and genuinely tense. If you want to watch something quite different than your standard Slasher, give this one a shot. While maintaining the traditional formula, Mark Rosman has directed a very good underrated genre picture that should definitely appeal to horror fans looking for a forgotten cult hit. The film overcomes its weak aspects by giving the viewer a terrifying, brooding atmosphere, which adds so much to the enjoyment of the film.
½
Not as gory or sleazy as your typical 80's slasher, but it's better made than most. Good acting, well mounted suspense and an effective musical score all contribute to its good points. But the lack of gore and low body count that starts to mount around the 30 minute mark rather than the 30 second mark is likely to bore the thrillseekers. It's all just your standard clichéd slasher flick at the end of it all but it does the basics very well.
An average college themed slasher horror film. It has a couple of surprises here and there, but it's pretty predictable. overall, it's just okay.
The House on Sorority Row Quotes
| | |
| --- | --- |
| Liz: | How was that romantical skinny dip last night? |
| | |
| --- | --- |
| Dr. Beck: | Your the last of your friends alive. |