How I Won the War
(1967)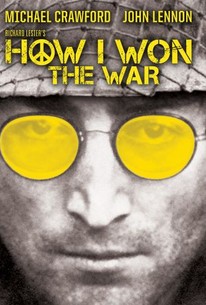 Movie Info
Among the first of the late 60s anti-war films that reflected growing concern over the Vietnam War, How I Won the War takes a cold, dark look at the Good War, World War II. In adapting Patrick Ryan's 1963 novel, screenwriter Charles Wood and director Richard Lester offered a narrative fractured by characters making side comments to the camera, stylized cinematography, inserts of newsreel war footage, and plenty of absurdist humor and slapstick. Ernest Goodbody (Michael Crawford) is a bumbling British officer who manages to get most of his small company of musketeers killed while on a mission in North Africa to set up a cricket pitch behind enemy lines for officers of the advancing British army. The rest of the company dies in an ensuing campaign in Europe near the war's end, but all of the men continue to march along, appearing as monochromatic ghosts. (Original prints of the film intercut real battle footage tinted to match the color of the soon-to-be ghost soldier. Some prints of the film, including one shown on Turner Classic Movies, present the newsreel shots in black and white, undercutting the stylized touch.) The story is framed as a flashback, with Goodbody relating his version of events to a German officer (Karl Michael Vogler), while the real version of events, demonstrating Goodbody's ineptitude, plays out on screen. Among the supporting players are John Lennon, who had worked with Lester on A Hard Day's Night and Help; Roy Kinnear, a Lester regular, as a fat soldier who is certain his wife is cheating on him; Jack MacGowran as the troop's designated fool, and Michael Hordern as a general almost as oblivious to his suffering men as Goodbody.
News & Interviews for How I Won the War
Critic Reviews for How I Won the War
Audience Reviews for How I Won the War
A Scene the Harder For the Reality I wanted to like this better than I did. I like John Lennon, of course, and he and director Richard Lester worked together on both [i]Hard Day's Night[/i] and [i]Help![/i] Those movies, I do like. And yet this movie failed to hold my interest. I'm wondering if it's because it was too aware of itself. Lester didn't seem to me to be making a movie. He seemed to be making a Happening, if you will forgive the horrible '60s-ism. We were supposed to be seeing in this film Something Important, and yet what that was seemed a little vague to me. Of course it's Anti-War, because movies of the time were. At least unless they starred John Wayne. Hip movies, I suppose we should say. This may be the problem. The movie, I fear, is more concerned with being hip than good, and I rather think it fails to be either. Lieutenant Goodbody (Michael Crawford) is one of those dreadful British officers who has become so on the strength of his connections, not through any ability or training. He is put in charge of a group of soldiers who are sent to take an oasis for the purposes of building a cricket pitch. A morale builder, don't you know. He is accompanied by your standard collection of British War Movie types, most notably for our purposes Cheeky Lower-Class Batsman Gripweed (Lennon). You get your Stiff Upper Lip, Out-of-Touch With Modern Warfare leadership. People who just want to be home with their wives and families. The movie is then intercut with actual newsreel footage tinted various colours; a conceit of the movie is that you can tell what battle people died in by what colour they are painted afterward. Except the movie didn't make it clear to me that it was what was going on. All I could see was that there was suddenly some guy going around like a plastic army man, and then after that, there was a pink one. Eventually, a lot of them were blue, and that was when I started to work out what was going on. This is one of the places where it's a little too '60s for its own good. It's Symbolic, not concerned with whether or not the audience will understand what's going on. And you can tell that not everyone did when you find out that the people making prints in the United States thought the tinting was a mistake and made it all black and white again. Which doubtless confused people even more than those of us who saw the tinting. The problem is that this has been done better other places. Roger says that he doesn't think the film is really anti-war at all, and I certainly don't think it's decent satire. There are scenes with hints of it--Roger doesn't like the bit where the man gets his feet blown off and his wife tells him to run them under the cold water tap, but I thought it an interesting summary of a certain attitude. Indeed, of Stiff Upper Lip. I read a graphic novel recently wherein a little old British couple dies a slow and lingering death of radiation poisoning after World War III, and it struck a similar nerve. Better. And there's of course [i]Colonel Blimp[/i]. Neither are really anti-war exactly. Just opposed to the kind of war the British tended to fight in the twentieth century. The old couple tend to forget it's the Russians, not the Germans, that they're fighting this time. And John asks us if we knew it was going to end the way it did. Perhaps we did. In that moment, perhaps John's future is before us in a way he could not hope to have imagined. In an anti-war attempted satire, the Plucky Comic Relief is doomed. But we who know what will happen thirteen years later also know that it is not the fate of the character alone. John gets a good final speech, really the best lines of the movie, and it is this alone which has left me thinking good thoughts about the movie, this alone which saves it from total failure. It isn't a bad metaphor, really, for all those men who went away and died in Northern Africa. Or somewhere in France. Or the jungle. Or all those places young men have gone off to die. With John . . . at least he wasn't far from home, alone and scared. Most people can't stand her, but he loved Yoko, and she was there in those final moments. Gripweed and the others had no such luck.
Edith Nelson
½
How I Won The War is a silly, yet fun movie that was a delight to watch. Even though it suffers from a weak script and characters, I still found it amusing. How I Won The War is based off a novel of the same name by Patrick Ryan. Though the cover of the VHS box shows John Lennon's character, the whole movie is a retelling by Officer Lieutanant Ernest Goodbody. The film takes place during WWII, and it's a ludicrous plot. This battalion, known as the Musketeers, are sent to build a criket field in the middle of an African desert. Along the way, Goodbody's problematic and often times strange actions result in the death of the other troops, one by one. While Goodbody tells the story like all the troops admired him and died valiantly on the battlefield, in actuality they despised him, and most of them died from his antics. Even though I really liked the film, there are several problems with it plot wise, script wise, and character wise. The plot is so ridiculous and unfeesably silly that just talking about it creates one of those what the **** moments. The script is pretty poor, since most of the lines were given to Michael Crawford's character, who for the most part, wasn't exactly enjoyable. He's so naive and incompetent, it's hard to root for him or understand him. Outside of Goodbody, the other characters were extremely weak. How much we got to know these characters is as much as you'd get from a quick 2 minute interview. Really, you get the thin skeleton of their characters, so when they do die, it's hard to feel sorry for them. The deaths in this film feature usage of real WWII footage to describe the carnage. I'm not sure if it was Lester's idea or was it due to the budget, but at points it works and at others it denotes the value. As you can imagine, John Lennon is the lone standout in this film. Even though he's on screen for a total of fifteen minutes, his character is the most endearing of all of them combined. Yeah, his presence is that powerful. Lennon has this natural screen presence that is entertaining, unfortunately the poor script hinders the true potential his character had for, when his character did die, truly potent, though it still can stir emotions (more on that later.) The main thing that killed How I Won the War is when it was released. Only 3-4 years before, Dr. Strangelove, often called the best political satire movie ever made, was released with high critical esteem. This probably deflated How I Won the War's idea, since it was an anti-war film (another form of political satire in war form), it was probably over compared to Dr. Strangelove, thus devaluing the film. How I Won The War's biggest problem is that it struggles with serious identity issues. It teeters between a comedy and a serious war film. The problem is that what's funny isn't extremely funny and what's supposed to be serious or poignant just doesn't hit the mark. Richard Lester is known for his comedies, and this was his first attempt at a more serious film. I think that if he had developed the other characters a bit more and gave them all stronger personalities (and worked on the script), How I Won The War could've been a critically and finacially successful movie that was funny, yet emotional, and created endearing characters. Despite all of that criticism, I enjoyed How I Won The War. Maybe it's because I'm being biast, and that's probably it, but I still found the film to be shot well and that it had an idea that was good, just not executed as well as hoped. I think what makes this film more effective today is the ironic death of John Lennon. In the film he dies after getting hit with shrapnel from a mortar, in real life, he dies after getting shot with hollow bullets. The two deaths mirror each other so closely (even to the proximity of where the projectiles entered) that is intensifies the potency of Lennon's death in the film. That's what made the film stronger, thus it's a rare film that's better with age. I enjoyed this film immensly, but I really don't think many would enjoy this because of how overall weak the movie is. See it if you're a fan of John Lennon or Richard Lester's work, but otherwise, I wouldn't put this at the top of your must see list. (Real rating: 96%)
Catherine Sumida
Had John Lennon not been in this movie, it would have been completely forgotten about. To top it off, his was a bit part that stood out as amateurish among his more experienced peers.
Josh M
How I Won the War Quotes
There are no approved quotes yet for this movie.
Discussion Forum
Discuss How I Won the War on our Movie forum!