Husbands
(1970)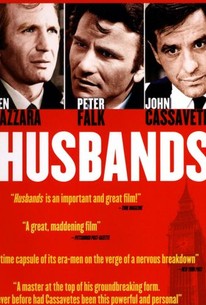 Movie Info
John Cassavetes wrote and directed this look at three middle-aged men thrown into a midlife crisis when one of their mutual friends dies. Harry (Ben Gazzara), Archie (Peter Falk) and Gus (John Cassavetes) attend the funeral of their buddy David Rowlands (Stuart Jackson); all three are starting to feel the pressures of their advancing years, while Harry is having serious problems with his marriage. After the funeral, the three men decide that they need to get away from it all for a while, and they spend the next two days getting drunk, shooting hoops, playing cards, sleeping on the subway, and pretending that they're teenagers again. After 48 hours of irresponsibility, Archie and Gus decide that fun is fun but it's time to go home. But when Harry goes back to his wife, they have a huge argument; Harry storms out and decides to fly to England, persuading Archie and Gus to tag along. They get dressed up, visit a casino, and pick up beautiful women, but while Archie and Gus, as before, look at this as a brief vacation from their lives as loyal husbands and fathers, Harry doesn't want to go home, even though he seems more troubled by his infidelity than do his two friends. Cassavetes' first directorial project after his critical breakthrough with Faces, featuring intense, largely improvised performances by two of his most consistent collaborators, Ben Gazzara and Peter Falk, Husbands was originally released in a cut running 154 minutes, but was trimmed to 138 minutes for general release. ~ Mark Deming, Rovi
Rating:
PG-13 (for mature thematic elements including sexual situations, language, drunkenness, and brief violence)
Genre:
, ,
Directed By:
Written By:
In Theaters:
On DVD:
Runtime:
Studio:
Columbia Pictures
News & Interviews for Husbands
Critic Reviews for Husbands
Audience Reviews for Husbands
Far more effective in my opinion on showing the impact of death on the male psyche. The wanderings of the three husbands is revealing and far too realistic.
John Ballantine
Super Reviewer
If you love the experimental work of John Cassavetes, you may really enjoy this film. However, you may not. His skill for creating an atmosphere of creativity and psychological exploration should never be denied. And, his skill as a thoroughly unique voice in American Cinema should never be disputed. All of this does not mean he didn't sometimes make an off-step. HUSBANDS, is for me - an off-step. There are some magical moments -- particularly for Peter Falk, but those moments are separated by dated and rambling overtly quirky scenes that go no where of any real interest. And, unlike most of his films this transgressive bender goes too far beyond the reach of reality. It seems excessive to spend over two hours with these three men just to drive home a point about the societal restraints that prevent male friends to actually grieve over the loss of one of their best friends and to mourn the passing of their youth. The theme is over-worked and muddled by subplots of one bad marriage and a never fully explored sexual ambiguity of another. But, I'd much rather watch a Cassavetes off or miss-step than mediocre turns by other filmmakers.
Matty Stanfield
I know Cassavetes' style is an acquired taste, and pushes the boundaries of cinematic narrative devices (thereby attracting lots of detractors), but I find his work to generally be sharply observational and endlessly fascinating. Husbands (his first of many collaborations with Ben Gazzara and Peter Falk), though, marks a point in John's career where his style reached and erroneously rammed up against its logical conclusion. His scenes take time to develop -- here, they take too long; he promotes the small idiosyncrasies in people to inform and push along his character development -- here, the moments are too small and tedious; he loves showcasing the suburban malaise of middle-aged men -- here, their plights are void of proper context, thus rendering their tumultuous behavior meaningless. And then there's Cassavetes' emphasis on improvisation. Most of the time, he uses it to great effect -- here, it seems like on more than one occasion, the silence exists not to punctuate a piece of dialogue, but to meander while the actors think of what to say next. Interestingly enough, Cassavetes decided to cast himself as the third friend, a role that is closest to a mediator, a relatively gentle middle ground between Gazzara's pent-up-to-the-point-of-explosive rage and Falk's snarky overconfidence. Together they are meant to convey some sense of stranded masculinity, caught in the crosshairs of the encroaching ethos of counterculture love and their perceived need to remain stoic and impenetrable, but they just come across as childish. I know Husbands is supposed to be his critique of unchecked masculinity and the misogyny that accompanies it, but as a time capsule rendition of men being boys, the film certainly has an inherent intrigue, but it is not one of Cassavetes' strongest films.
Jonathan Hutchings
Super Reviewer
Husbands Quotes
There are no approved quotes yet for this movie.
Discussion Forum
Discuss Husbands on our Movie forum!