I Fidanzati
(1964)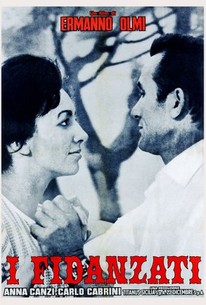 AUDIENCE SCORE
Critic Consensus: No consensus yet.
Movie Info
Absence does indeed make the heart grow fonder as is seen in this romantic drama. The story begins when the young protagonist takes an 18 month long welding job in Sicily. Feeling that he and his fiancee, who have been together so long that their relationship has become stale and predictable, need a break, he looks forward to the trip. He is not long in Sicily before he begins pining for his true love. He tells her his feelings in a postcard and the relationship again begins to flourish.
Cast
Critic Reviews for I Fidanzati
Audience Reviews for I Fidanzati
"The Fiances" is an innovative and captivating blend of neo-realism and stream of consciousness storytelling that begins with an exquisite long take at a dance hall. It is there that Giovanni(Carlo Cabrini) and Liliana(Anna Canzi) tearfully part company, as he takes a promotion in Sicily. Overall, the movie is concerned with the then present day state of Italy that is split between its past and future modernization, with the central relationship being affected by that, like probably so many others. While many of Giovanni's co-workers may see Sicily as primitive, neither he nor the movie view it as such. To be honest, it is not totally inaccurate to view it as another planet entirely, either. And it is a nice touch that Giovanni arrives at night, so he gets a first look at his new surroundings in the fresh light of morning. My only problem with "The Fiances" is that once it gets into a serious groove, it just suddenly grinds to a halt.
such a beautiful film that i don't know where to begin. maybe with the music, the use of which is extraordinary throughout. a simple tale told touchingly well and without overt sentimentality. olmi is a miraculous director
Stella Dallas
Super Reviewer
I Fidanzati Quotes
There are no approved quotes yet for this movie.