I, Tonya
(2018)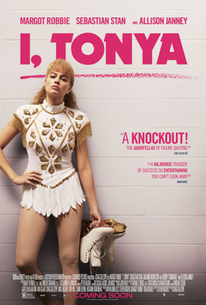 TOMATOMETER
AUDIENCE SCORE
Critic Consensus: Led by strong work from Margot Robbie and Alison Janney, I, Tonya finds the humor in its real-life story without losing sight of its more tragic -- and emotionally resonant -- elements.
Movie Info
Based on the unbelievable, but true events, I, TONYA is a darkly comedic tale of American figure skater, Tonya Harding, and one of the most sensational scandals in sports history. Though Harding was the first American woman to complete a triple axel in competition, her legacy was forever defined by her association with an infamous, ill-conceived, and even more poorly executed attack on fellow Olympic competitor Nancy Kerrigan. Featuring an iconic turn by Margot Robbie as the fiery Harding, a mustachioed Sebastian Stan as her impetuous ex-husband Jeff Gillooly, a tour-de-force performance from Allison Janney as her acid-tongued mother, LaVona Golden, and an original screenplay by Steven Rogers, Craig Gillespie's I, TONYA is an absurd, irreverent, and piercing portrayal of Harding's life and career in all of its unchecked--and checkered--glory.
News & Interviews for I, Tonya
Critic Reviews for I, Tonya
Audience Reviews for I, Tonya
I knew very little about Tonya going into this. Interesting movie and kind of nostalgic to the era it's set in. Quite tongue in cheek. Have to say, the mother stole the show, though. I'd hate to be related to her, but she is freaking hilarious in this. So sour and awful.
Nicki Marie
Super Reviewer
Margot Robbie and Allison Janney are excellent in this atypical biography that reaches moments of such absurdity (with characters who are stupid beyond belief) that it becomes surreal and hilarious sometimes, benefiting from the way it plays with the contradictions seen in the interviews.
Carlos Magalhães
Super Reviewer
½
As I've said throughout countless reviews in the past, true stories are hardly ever completely honest. The quality of a film that's based on a true story has nothing to do with the fact that the true story was incredible or not because there's no way of knowing if everything's true unless you're the character it's based on. That being said, I, Tonya is one of the latest feature films (based on a true story) to receive a theatrical release. Gaining buzz for awards season, this is a very relevant story for today's climate. Yes, this film was made before all of these allegation stories made their way into the public eye, but I, Tonya deals with this particular notion in a very grand fashion. While I don't particularly like any of the characters throughout this entire movie, here's why I believe this to be a movie that people will love to hate. Following Tonya Harding, an unlikely figure skater, due to her foul mouth and horrific upbringing, I, Tonya is about her rise to power and continual falls from grace. Falling in love with a man who (deep down) is just as violent a cruel as she is, their relationship finds a way of working out, most of the time. This film asks you to applaud for a despicable woman and try to forget about how she treats the people around her. Yes, she's talented, but it's hard to root for a woman that acts like this, especially when the entire film revolves around her. I'm sure aspects of this story have been exaggerated or made up entirely, but there are clever editing and writing techniques to make certain dramatic sequences quite funny at times. Margot Robbie, Sebastien Stan, and Allison Janney are all terrific and believable as these characters, with the most notable one being Stan's portrayal of Tonya's husband Jeff. In my opinion, he was the standout of this film, because even though I've seen and enjoyed his performances in the past, most of them fell in comparison to everyone else in each film he appeared in. I'm simply stating that he's the standout to me, due to the fact that I've never seen him deliver a better performance than this and I don't think I ever will. The performances sell this film, but the true star of this movie is the editor (excluding the very off-putting visual effects of the skater's faces). From cutting seamlessly between scenes with the brilliant use of sound effects, to quick cuts to show the progression of time, to the long takes exploring a character breakdown, there are many technical aspects about this film to gawk at. I found myself enthralled by the way this film was put together in terms of its structure. It's very rare that I leave a movie and find the most interesting aspect to be the editing choices, especially when everything else about the movie is just as great. Quite honestly, aside from a few plot points being brushed over, this was a terrific film from start to finish. In the end, I, Tonya impressed me on many levels. From its use of fourth wall breaking to each and every performance seeming extremely committed to the use of unique editing, to the direction that seemed calm and focussed throughout the dramatic moments, this is a ride that I believe is worth taking. Although it doesn't quite offer the truth and literally states that certain things may or may not have happened, it's told in a perfect way for a feature film. This movie deserves its award buzz and I believe it's a great movie that people should check out.
I, Tonya Quotes
There are no approved quotes yet for this movie.