If a Tree Falls: A Story of the Earth Liberation Front
(2011)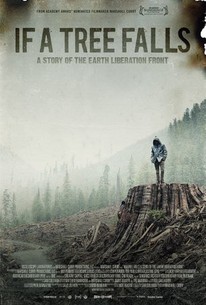 If a Tree Falls: A Story of the Earth Liberation Front Videos
If a Tree Falls: A Story of the Earth Liberation Front Photos
Movie Info
Filmmaker Marshall Curry explores the inner workings of the Earth Liberation Front, a revolutionary movement devoted to crippling facilities involved in deforestation, while simultaneously offering a profile of Oregon ELF member Daniel McGowan, who was brought up on terrorism charges for his involvement with the radical group. ~ Jason Buchanan, Rovi
Rating:
NR
Genre:
,
Directed By:
Written By:
In Theaters:
On DVD:
Box Office:
$61,153.00
Runtime:
Studio:
News & Interviews for If a Tree Falls: A Story of the Earth Liberation Front
Critic Reviews for If a Tree Falls: A Story of the Earth Liberation Front
Audience Reviews for If a Tree Falls: A Story of the Earth Liberation Front
It's hard not to be fascinated by If a Tree Falls: A Story of the Earth Liberation Front. Imagine coming to work on a seemingly normal day and then seeing the quiet guy down the hall get arrested by the feds on terrorism charges. That's what happened to the wife of filmmaker Marshall Curry, who decided to turn his lens on this man and tell his story. There's this really interesting subtext throughout the film regarding what a terrorist really is. Should someone who burned down a few buildings face life plus 300 years in prison? Or does the label have more to do with one's set of beliefs, the reasons behind his or her actions, and not the results of these actions? The film frames this philosophical debate around the aforementioned quiet guy (or the "disgruntled one" as some of his "terrorist" friends called him). And it's a puzzler. I still don't know how I feel about Daniel McGowan's beliefs and crimes, but I loved his story and found it monumentally compelling. For a time, the Earth Liberation Front (or ELF) was considered the largest homegrown terrorist organization in America. Its motto: Protect all life on Earth. Its method: Set fire to companies they consider threats to the environment. Yes, it's extreme, and the former members interviewed for the film will be the first admit it. But as their story shows, traditional forms of non-violent protesting is toothless in situations like this, and when one feels powerless, the easiest way to grab some power is to make your enemies pay attention. That's what the ELF did in the 90s, and that's why Daniel McGowan and his friends went to prison. The filmmakers stay pretty much hands-off here, which is very much appreciated. They interview several federal officials, as well as businessmen who lost property at the hands of McGowan and company, to make sure it's a two-sided affair. Really, the entire ELF saga has a ton of gray area, so there's really no need to preach, and they don't. There's not much of a stylistic identity going on here, which I guess is OK, but the film loses points for its very obvious and distracting music cues. Beyond that, however, there's little to object to. It's just a very interesting story told well, and it has a ton of subtext for you to chew on-from the terrorist question to Daniel's arguably foolish decision to get married to the crazy ironic twist that leads to his eventual arrest. This is an exceptional doc, and coupled with Under Fire: Journalists in Combat and Bill Cunningham New York, it's part of a very strong shortlist for this year's Oscar. http://www.johnlikesmovies.com/if-a-tree-falls-a-story-of-the-earth-liberation-front/
John Gilpatrick
½
"If a Tree Falls" is an insightful documentary that could have used a little more distance from its subject, Daniel McGowan, who is facing charges of terrorism and possible life imprisonment for arson which he committed while a member of the Earth Liberation Front(ELF). What is being explored is how an activist moves from peaceful protest to more violent means of expression. As shown here, it can have something to do with being pepper sprayed during civil disobedience which is cruel on somebody intent on giving themselves up. Specific to this case is the frustration at witnessing the destruction to the forests by corporate logging. While the documentary is definitely sympathetic towards McGowan, it also talks to all sides including law enforcement and logging company executives who explain that they plant six trees for every one cut down, per law. So, maybe if they could communicate that better to the protesters, things might not be so acrimonious between the two sides. The documentary explores another failed bit of communication which is the word terrorist and how overused it has become. As McGowan says, what he did was just property destruction, wherein nobody got hurt, even though it is inferred that the ELF was taking on more sinister aims before it shattered. So, just because a person is more afraid after being mugged, does that make it terrrorism, too?
½
Informative and almost completely made up of actual footage, If A Tree Falls does a great job of capturing all sides of the argument towards clear-cutting trees, showing that the Earth Liberation Front isn't as bad as the media makes them out to be, but also showing the level-headed and compassionate loggers whom also concern themselves with the quality of land. One of the best documentaries of 2011.
Christopher Haskell
Super Reviewer
If a Tree Falls: A Story of the Earth Liberation Front Quotes
There are no approved quotes yet for this movie.
Discussion Forum
Discuss If a Tree Falls: A Story of the Earth Liberation Front on our Movie forum!