I'm Glad My Mother Is Alive
(2011)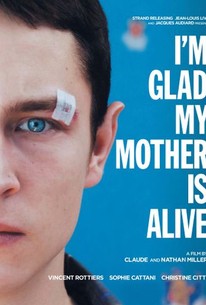 I'm Glad My Mother Is Alive Photos
Movie Info
Based on a true story, I'm Glad That My Mother is Alive explores childhood trauma and its dire consequences on adult life. Given up for adoption as a toddler, troubled teenager Thomas becomes obsessed with tracking down his birth mother. After years of searching Thomas finds her single, with a small child, living in a nearby suburb and introduces himself. Traumatized by years of emptiness and longing for his mother, he starts an ambiguous relationship with her (part courtship, part obsession) which slowly drives him to an act of madness. -- (C) Strand
News & Interviews for I'm Glad My Mother Is Alive
Critic Reviews for I'm Glad My Mother Is Alive
Audience Reviews for I'm Glad My Mother Is Alive
½
Based on a true story, "I'm Glad My Mother Is Alive" is an unsettling character study about Thomas(Vincent Rottiers) who we first meet as a young adult. He is recalling past memories, first as far back as he can at the age of 5 to the only memories he has of his birth mother, Julie(Sophie Cattani), who when confronted by social services, gives up him and his younger brother Patrick to a caring couple, Annie(Christine Citti) and Yves(Yves Verhoeven), who cannot have children of their own. By the age of 12(Maxime Renard), Thomas is starting to ask questions about his birth mother, especially after an exhausting swim with his father.(The moral of the story is to never try and keep up with the youngsters.) He is also getting into fights at school and is about to be sentenced to boarding school. A lot of that comes from his being conflicted with the love he has for his birth mother versus the possible reality of who Julie really is which frightens him. Some might say this adds up to a variation on the whore/madonna complex but it is not really that simple since she was still a teenager when she had Thomas and is still trying to figure things out. On the other hand, Patrick, now known as Francois, does not recall Julie at all and adjusts easier. In the end, there are no easy answers and no easy way of assigning blame.
I'm Glad My Mother Is Alive Quotes
There are no approved quotes yet for this movie.