In Your Eyes
(2014)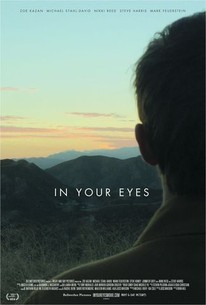 Movie Info
The reserved wife (Zoe Kazan) of a prominent East Coast doctor falls into a metaphysical romance with a charming ex-con (Michael Stahl-David) seeking a fresh start in New Mexico in this spellbinding drama from director Brin Hill, and writer/producer Joss Whedon (Buffy the Vampire Slayer, The Avengers). Nikki Reed co-stars. ~ Jason Buchanan, Rovi
Critic Reviews for In Your Eyes
Audience Reviews for In Your Eyes
This is the type of film (I will warn you right off the bat) that will have viewers divided right down the middle as to who likes and dislikes it's premise. Since childhood, Dylan and Rebecca have has odd visions and feelings that they are connected in some way. Through some weird form of life, they are able to see the world through each others eyes, feel what the other is feeling, and communicate as if they are just a phone call away. The way they are able to do this remarkable feat is never once explained or even hinted at, which is the main reason this film will not be for everyone. This will explain why I believe this film works on many levels, and some others not so much. "In Your Eyes" has terrific "chemistry" between Zoe Kazan and Michael Stahl-David, whom are perfectly cast in the leading roles. I place quotations around the word chemistry, because the fact that they are never face to face, you have to buy the fact that they share this incredible connection with one another, or the film will lose you. It does not bother me that the ideal is never explained, but the film could have benefited from a few hints to keep the viewer with an open mind throughout. I was genuinely enthralled from start to finish with this screenplay, as it is charmingly written by Joss Whedon, in probably the most heartfelt thing I have ever seen him pen. The cast, characters, and writing were the big selling point here, and even though there are noticeably low-budget shots, I really admired the cinematography here. The third act will have many mixed feelings from audiences, but I liked how it concluded, even though it does go a little over the top. In the end, I thoroughly enjoyed "In Your Eyes," and I would highly recommend it to anyone wishing to watch a touching story.
Quirky and charming, In Your Eyes is a supernatural romantic drama written by Joss Whedon. The story follows a boy and girl who form a telepathic connection as child, and then later as adults learn how to use it, becoming close friends with an intimate bond. Zoe Kazan and Michael Stahl-David have great chemistry together and give good performances; especially Kazan, who has a knack for playing goofy and eccentric. But there isn't much of a plot, and what plot there is is all crammed into the last act. Yet Whedon writes the character interactions so well, that the lack of plot is almost forgotten. An unusual love story, In Your Eyes is entertaining and fun.
Dann Michalski
Super Reviewer
This is a little known, hardly talked about independent film that features a female lead and director, with a story by Joss Whedon. It is the second feature for budding production company Bellwether Pictures, which is run by Whedon and his wife Kai Cole. Not many people have seen this film, because immediately after it appeared at the Tribeca Film Festival; it was given a VOD release and little publicity. Read more at http://www.bluefairyblog.com/reviews/2015/4/8/in-your-eyes
Spencer S.
Super Reviewer
In Your Eyes Quotes
| | |
| --- | --- |
| Dylan: | This going to be so weird. |
| Rebecca: | Ahhhh. |
| | |
| --- | --- |
| Dylan: | This is going to be so weird. |
Discussion Forum
Discuss In Your Eyes on our Movie forum!