Mou gaan dou (Infernal Affairs)
(2002)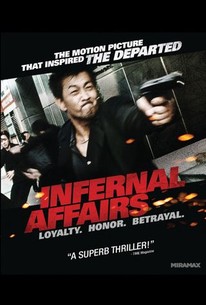 Mou gaan dou (Infernal Affairs) Photos
Movie Info
As Infernal Affairs opens, Ming (Andy Lau of Full-time Killer) is being initiated into the criminal underworld by triad boss Sam (Eric Tsang of The Accidental Spy), who ends his speech to his young charges by wishing them success in the police department. Ming enters the police academy, where he excels, but sees his classmate, Yan (Tony Leung Chiu-Wai of In the Mood for Love), expelled for "breaking the rules." It turns out that Yan wasn't actually drummed out of the force, but recruited by Superintendent Wong (Anthony Wong of Hard-Boiled) as an undercover operative. Just as Ming is achieving success in the police department while secretly working for Sam, Ming is gaining Sam's trust as a triad member, while reporting to Wong. Ten years later, both men, still undercover, have grown confused about their true identities, while their bosses, Sam and Wong, wage a battle of wits against each other. Each boss learns that the other has a mole working for him, and unwittingly entrusts the mole himself to ferret out the culprit. Ming and Yan scramble to expose one another's identity in an effort to save their own skins. Infernal Affairs was co-directed by Andrew Lau (who worked as a cinematographer on several of Wong Kar-Wai's films) and Alan Mak. Renowned cinematographer Christopher Doyle served as "Visual Consultant." The film was shown at New Directors/New Films in 2003. ~ Josh Ralske, Rovi
News & Interviews for Mou gaan dou (Infernal Affairs)
Critic Reviews for Mou gaan dou (Infernal Affairs)
Audience Reviews for Mou gaan dou (Infernal Affairs)
A very smart and taut thriller that prefers to focus on its characters and the relationship between them instead of jumping into action, shootings and twists as is usually expected from this kind of crime movie.
Carlos Magalhães
Super Reviewer
Saw it a long time ago but didn't fully grasp it. Rewatched it in October 2015. Thoughts: while the Hollywood version is more polished and higher production value, I like the ending of the HK version better. If you believe a person can change, as opposed to stark black-and-white caricatures, then the original achieves a more nuanced portrait of these complex characters.
Letitia Lew
Super Reviewer
An explosive crime-thriller. It's Heat meets Resivor dogs. Sets new standards for the cops and criminals genre. It's superb and magnificent. A tense, gritty and remarkable film in every way. It`s stylish, excellent, thrilling and unforgettable. A riveting, brilliant and absolutely sensational movie that packs pure suspense and surprises. A powerful and extraordinary piece of work. Awesomely entertaining. An incredible adrenaline-rush that wont quit and is packed with blistering action and amazing twist and turns. A stunning, deeply moving, surprisingly effective and breathtaking. This is where The Departed was found. A Hong Kong classic. Andy Lau and Tony Leung give outstanding performances. A knockout that has great charisma and a theme that's all its own
Mou gaan dou (Infernal Affairs) Quotes
| | |
| --- | --- |
| Insp. Lau Kin-ming: | You really want me to die |
| Insp. Lau Kin-ming: | You really want me to die. |
| Younger Chan: | I'm sorry, I'm a cop |
| Younger Chan: | I'm sorry, I'm a cop. |
| Insp. Lau Kin-ming: | Who knows? |
| | |
| --- | --- |
| Keung: | Remember this, if you see someone doing something but at the same time watching you... then he is a cop. |
| | |
| --- | --- |
| Supt. Wong: | I remember a story. Two fools are waiting for their kidney transplant but only one kidney is available. Thus they play a game. They put a card on each others pockets. Whoever guesses the card in his own pocket wins. |
| Hon Sam: | You know I can see your card. |
| Supt. Wong: | I think so too |
Discussion Forum
Discuss Mou gaan dou (Infernal Affairs) on our Movie forum!