Inherent Vice
(2015)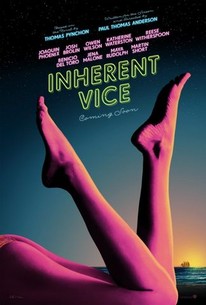 TOMATOMETER
AUDIENCE SCORE
Critic Consensus: Inherent Vice may prove frustrating for viewers who demand absolute coherence, but it does justice to its acclaimed source material -- and should satisfy fans of director P.T. Anderson.
Movie Info
"Inherent Vice," is the seventh feature from Paul Thomas Anderson and the first ever film adaption of a Thomas Pynchon novel. When private eye Doc Sportello's ex-old lady suddenly out of nowhere shows up with a story about her current billionaire land developer boyfriend whom she just happens to be in love with, and a plot by his wife and her boyfriend to kidnap that billionaire and throw him in a looney bin...well, easy for her to say. It's the tail end of the psychedelic `60s and paranoia is running the day and Doc knows that "love" is another of those words going around at the moment, like "trip" or "groovy," that's being way too overused - except this one usually leads to trouble. With a cast of characters that includes surfers, hustlers, dopers and rockers, a murderous loan shark, LAPD Detectives, a tenor sax player working undercover, and a mysterious entity known as the Golden Fang, which may only be a tax dodge set up by some dentists... Part surf noir, part psychedelic romp - all Thomas Pynchon. (C) Warner Bros
Rating:
R (for drug use throughout, sexual content, graphic nudity, language and some violence)
Genre:
,
Directed By:
Written By:
In Theaters:
On DVD:
Runtime:
Studio:
News & Interviews for Inherent Vice
Critic Reviews for Inherent Vice
Audience Reviews for Inherent Vice
The main problem with adapting Thomas Pynchon is that Pynchon has written some of the most complex, trippy prose that has ever existed. Just reading his short story "Entropy" will confuse and educate you on the style and tonality of much of Pynchon's work. (Though that story includes aliens) A great way that Paul Thomas Anderson incorporates the madness and frivolity of Pynchon's words is having a narrator to spout it off constantly. Read more at http://www.bluefairyblog.com/oscarseries/2015/4/8/inherent-vice
Spencer S.
Super Reviewer
Really disliked this. Could barely follow it and found it dull and ugly to look at. Characters and situations were stupid. I hated the lead character, not interesting at all to carry a movie. Just one surreal situation after another relying on smut or drug reference to be "clever". I have liked this directors other films quite a lot, so this is really disappointing.
Nicki Marie
Super Reviewer
A private eye investigates his ex-girlfriend's boyfriend's disappearance. Coolly directed, Inherent Vice is the latest effort from Paul Thomas Anderson, and it is a strong, occasionally funny film. I spent most of my time watching it trying to make sure I didn't miss one of the film's many twists, attempting to avoid being side-tracked by one of Anderson's many tangential plotlines, and for the most part I was successful. The plot is certainly complex, but this isn't like Tinker, Tailor, Soldier, Spy, which is complex for no apparent reason other than showing off its own cleverness. However, after all the machinations of plot and character, I wondered what the big deal was. While I enjoyed spending some time with Doc, Joaquin Phoenix's character, I couldn't say that he was truly memorable, nor did I think that Anderson's ability to convey Thomas Pynchon's novel teach me anything new about anything. Overall, while Inherent Vice is a good film, it's not revolutionary.
Jim Hunter
Super Reviewer
Inherent Vice Quotes
| | |
| --- | --- |
| Lt. Det. Christian F. "Bigfoot" Bjornsen: | 'After a long day of civil rights violations' |
| Lt. Det. Christian F. "Bigfoot" Bjornsen: | After a long day of civil rights violations. |