The International
(2009)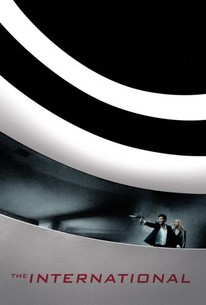 TOMATOMETER
AUDIENCE SCORE
Critic Consensus: The International boasts some electric action sequences and picturesque locales, but is undone by its preposterous plot.
Movie Info
Interpol Agent Louis Salinger and Manhattan Assistant District Attorney Eleanor Whitman are determined to bring to justice one of the world's most powerful banks. Uncovering myriad and reprehensible illegal activities, Salinger and Whitman follow the money from Berlin to Milan to New York to Istanbul. Finding themselves in a high-stakes chase across the globe, their relentless tenacity puts their own lives at risk as their targets will stop at nothing--even murder--to continue financing terror and war.
People Who Like this movie also like
News & Interviews for The International
Critic Reviews for The International
Audience Reviews for The International
½
[img]http://images.rottentomatoes.com/images/user/icons/icon13.gif[/img]
Directors Cat
Super Reviewer
It's rather suspenseful, and the shootout in the Guggenheim is remarkable, but the master conspiracy in this film is almost too big to swallow - it smells a little bit like last-minute pandering in the wake of the 2008 financial crisis - and there a few too many contrivances that keep the story moving (chance meetings with suspects, a driver who for some reason tries to run over Naomi Watts BUT NOT her partner Clive Owen, etc.). Watts's character has a husband and son, too, which leads to Owen eventually hinting to Watts that she should get out of the chase, and while reasonable, for some reason this scene really bothered me. She, like Owen, knew what she signed up for, but she was dumped from the plot and given short shrift in the end, a one-line kiss-off over which the final credits were running. It makes me think that adding her - the only female character, come to think of it - was a studio executive's insertion for audience reasons... a second hint at last-minute changes. This is wild speculation, but I just found something off about this movie, like it was either a lazy Bond/Bourne rip-off that was scooped up and edited for its financially opportune moment or a really smart political thriller that was watered down for the masses. There were great parts, but as a whole the movie never fully committed to the size of its ambition, and as a result the pieces just didn't hang together. Great shootout, though; for better or for worse, it was really easy to lose the plot after a scene that enthralling.
Daniel Perry
Super Reviewer
An Interpol agent and an NYC District Attorney investigate mob-like dealings by an international bank. Sometimes one's best assets are one's greatest weakness. The International implies that banks benefit from political corruption and turmoil, and thus, this particular "evil bank" fans the flames of countries' internal strife and even involves themselves in arms trafficking. To foment the flames of discord so widely, the bank has to be huge, and representatives of the bank make this point in the film. But in order to satisfactorily end the film, the bank either has to win or be completely defeated, and since the point all along was about the bank's far-reaching effects, the latter option doesn't work within the film's construct. Without giving away the ending, neither happens, so the ending isn't satisfying; it leaves the audience hanging in the balance, trying to walk a kind of middle road. I like the fact that the film chose a system and a systemic problem as its villain - this is the film's strength - but this strength leads to the film's inability to end well. Also, I didn't understand Clive Owen's character. We get a little background, but this man is obsessed with this case, and we're never privy to why. What personally drives him to solve this case? Is he always this crazed and intense? His behavior is often irrationally angry, and more backstory - one that avoids cliche - would have been welcome. The shoot-out at the Guggenheim was well-choreographed on the positive side. Overall, the idea behind The International - choosing a systemic villain - is a good one, but it ultimately leads to the film's collapse.
Jim Hunter
Super Reviewer