The Interpreter
(2005)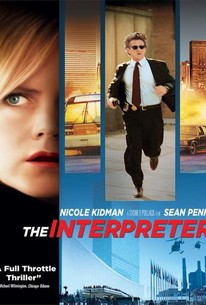 Movie Info
Escalating events begin when African-born U.N. translator Silvia Broome alleges that she has overheard a death threat against an African head of state, spoken in a rare dialect few people other than Silvia can understand. With the words "The Teacher will never leave this room alive," in an instant, Silvia's life is turned upside down as she becomes a hunted target of the killers. Placed under the protection of federal agent Tobin Keller, Silvia's world only grows more nightmarish. As Keller digs deeper into his eyewitnesses' past and her secretive world of global connections, the more suspicious he becomes that she herself might be involved in the conspiracy. With every step of the way, he finds more reasons to mistrust her. Is Sylvia a victim? A suspect? Or something else entirely? And can Tobin, coping with his own personal heartache, keep her safe? Though they must depend on one another, Silvia and Tobin couldn't be more different. Silvia's strengths are words, diplomacy and the subtleties of meaning, while Tobin is all about instinct, action and reading into the most primal human behaviors. Now, as the danger of a major assassination on U.S. soil grows and Silvia's life hangs in the balance, Silvia and Tobin play out a gripping dance of evasion and revelation that keeps them both guessing as they race to stop a terrifying international crisis before it's too late.
People Who Like this movie also like
News & Interviews for The Interpreter
Critic Reviews for The Interpreter
Audience Reviews for The Interpreter
A disastrous film that wants to be more complex than it should be, coming up with more and more unnecessary details at the expense of simple concision, and so the obvious, predictable narrative gets lost amid contrivances, implausible scenes and plot holes the size of Africa.
Carlos Magalhães
Super Reviewer
Kidman and Penn are good actors but the script is a bit limited, especially in terms of characterization, and it just leaves you thinking that this could've been so much better than what it was. Good thriller.
Tobin Keller: I'd rather make the mistake of believing her, than the bigger one of not.  "The truth needs no translation" Despite liking both Nicole Kidman and Sean Penn(both of whom give good performances), I was left underwhelmed when The Interpreter was all said and done. For the most part, it was really just a dull drama with some thriller elements tossed in here and there. It never had me on the edge of my seat like it could have. It's not technically a horrible movie, but I really found no joy in it. Other then the leads; the film doesn't really have any redeemable qualities. It's really dialogue heavy which isn't necessarily a bad thing, but the dialogue leaves a lot to be desired.  There are a few really interesting scenes, but as a whole the movie never really comes together. It doesn't flow at a good pace. It's slow, slower and then slowest and then for a three minute stretch it will pick up the pace. Then it will go back to it's snail crawl. I'm okay with slow films if they have good characters, dialogue and situations. This movie has one interesting character(Kidman's, Penn's character was lifeless, although he did play him well), bad dialogue and two or three cool situations. I really wish this would have turned out different with the people involved. But I guess I can just go watch one of Penn's or Kidman's countless great movies.
Melvin White
Super Reviewer
The Interpreter Quotes
There are no approved quotes yet for this movie.