Into Eternity
(2011)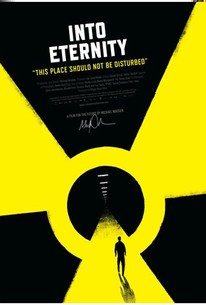 Into Eternity Videos
Into Eternity Photos
Movie Info
Onkalo (Finnish for "hiding place") is under construction: it's a cavernous world of tunnels and corridors, a permanent storage facility for nuclear waste, meant to last 100,000 years (that's 20 times as long as the pyramids have so far). Conceptual artist Michael Madsen's film is a creepy, eerily elegant meditation on human folly, punctuated by philosophical and historical references, that asks: how do you keep 3,000 future generations from inadvertently opening this Pandora's Box? Should markers be posted in every language or in hieroglyphics that say "keep out"? (Someone suggests Edvard Munch's "The Scream" might work nicely.) Would it be better not to post any notice and hope no one will chance upon it? And what about the Ice Age predicted to occur in a mere 60,000 years? Will the weight of the ice impact the structural integrity of Onkalo? If you thought the Gulf oil spill was scary... -- (C) Film Forum
Rating:
NR
Genre:
, ,
Directed By:
Written By:
In Theaters:
Runtime:
Studio:
Cast
News & Interviews for Into Eternity
Critic Reviews for Into Eternity
Audience Reviews for Into Eternity
2/5 I was very interested in seeing this, but it was uninformative and extremely slow. The content that was there was pointlessly stretched for what I am assuming was a time requirement for the budget. This should have been a 15 - 20 minute film that actually should not even have been made until the project was near completion.
Troy Kleasner
The main argument in this film is that our current civilization will be wiped out and all of our knowledge of radiation and all of our languages will be gone as well. All lost within the next 100,000 years. Then some future civilization will develop and uncover our nuclear waste, not knowing what it is. No where do they even tell you specifically why the waste is dangerous, only that radiation is bad for you. They hype up this waste like its some sort of boogeyman and if you find out about it you're already dead. The film is set up as if it were being watched in the future to warn people about the dangerous waste. However it then gives you the premise that every basic science textbook, every internet article on radiation, and all of our current languages are gone. So how would anyone watch or even understand the video? All im saying is it makes no sense... I suppose im a little biased since I thought this was a documentary on nuclear waste and it turned out to be an environmentalist film using hippie scare tactics.
Jim Craddock
Haunting and thought-provoking, this documentary raises issues with nuclear power - and the impermanence of our culture - that we tend not to think about. This movie makes a better case against nuclear power than a thousand statistics. But even if it avoided politics, it would still be required viewing for anyone who has ever wondered what the future will bring.
Anthony Bencivengo
Discussion Forum
Discuss Into Eternity on our Movie forum!
News & Features