Janis - The Way She Was
(1974)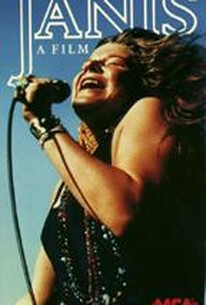 AUDIENCE SCORE
Critic Consensus: No consensus yet.
Movie Info
Rating:
R
Genre:
Directed By:
Written By:
Runtime:
Critic Reviews for Janis - The Way She Was
All Critics (1) | Fresh (1) | Rotten (0)
It offers an honest upclose personal look at the popular blues singer.

Ozus' World Movie Reviews
Audience Reviews for Janis - The Way She Was
Killer documentary about the one and only Janis Joplin. [img]http://lineout.thestranger.com/files/2007/08/janisjoplin_wideweb__430x284.jpg[/img] SEE the entire film here: https://www.youtube.com/watch?v=34F8Zth-po4 Excellent quality Pro-shot recording of "Janis: The way she was" a documentary with some live performances. DVD has a total running time is 96 minutes, and is Black & White footage, with quality about 8/10. Track listing is as follows: Mercedez Benz Ball and chain Tell mama Kosmic Blues Cry baby Try Move over Comin' home Summertime The good days/I can't turn you loose Me Maybe Ball and chain Piece of my heart Me and Bobby McGee [img]http://upload.wikimedia.org/wikipedia/commons/thumb/8/88/JoplinHouseHaight-Ashbury.PNG/170px-JoplinHouseHaight-Ashbury.PNG[/img] Joplin's house at 122 Lyon Street in Haight-Ashbury in San Francisco, California. She lived there in the 1960s with her boyfriend Country Joe McDonald (famous for his Woodstock appearance singing his Fixin' to Die Rag which was so anti-Vietam that work was hard to find afterward). Birth name Janis Lyn Joplin Also known as Pearl Born January 19, 1943 Port Arthur, Texas, U.S. Died October 4, 1970 (aged 27) Los Angeles, California, U.S. Genres Blues rock, soul, psychedelic rock, acid rock, country, folk, hard rock, jazz blues Occupations Singer-songwriter Instruments Vocals guitar, auto-harp, harmonica, piano, percussion, Years active 1962-1970 Labels Columbia Associated acts Big Brother and the Holding Company, Kozmic Blues Band, Full Tilt Boogie Band, Grateful Dead Rolling Stone ranked Joplin number 46 on its list of the 100 Greatest Artists of All Time in 2004, and number 28 on its 2008 list of 100 Greatest Singers of All Time. She was inducted into the Rock and Roll Hall of Fame in 1995. [img]http://brianhassett.com/wp-content/uploads/2011/04/FestivalExpress-CCRider.jpg[/img] As a teenager, she befriended a group of outcasts, one of whom had albums by blues artists Bessie Smith, Ma Rainey and Lead Belly, whom Joplin later credited with influencing her decision to become a singer. She began singing in the local choir and expanded her listening to blues singers such as Odetta, Billie Holiday and Big Mama Thornton. [img]http://upload.wikimedia.org/wikipedia/commons/7/79/Janis_Joplin_Big_Brother_and_the_Holding_Company.jpg[/img] Big Brother and the Holding Company During her year at Lamar University, she commuted to Austin to perform solo, accompanying herself on guitar. One of her performances was reviewed in the Austin American-Statesman. Joplin became engaged to a man who visited her, wearing a blue serge suit, to ask her father for her hand in marriage, but the man terminated plans for the marriage soon afterwards. [img]https://encrypted-tbn2.gstatic.com/images?q=tbn:ANd9GcQoF4FJyb2IGFIaAo4_nPt6A9cyZuumeGQBI0d6_KPjKM6hhskG[/img] Stevie Nicks considers Joplin one of her idols, saying: You could say that being yelled at by Janis Joplin was one of the great honors of my life. Early in my career, Lindsey Buckingham and I were in a band called Fritz. There were two gigs we played in San Francisco that changed everything for me - One was opening up for Jimi Hendrix, who was completely magical. The other was the time that we opened up for Janis at the San Jose Fairgrounds, around 1970. [img]http://upload.wikimedia.org/wikipedia/commons/thumb/9/92/Janis_Joplin_1970.JPG/170px-Janis_Joplin_1970.JPG[/img] "I'm not really thinking much, just sort of, trying to feel" -Joplin, having been asked by Dick Cavett what she thought about when she sang. READ so much more about Janis here: http://en.wikipedia.org/wiki/Janis_Joplin [img]http://upload.wikimedia.org/wikipedia/commons/thumb/9/94/Janis_Joplin_seated_1970.JPG/220px-Janis_Joplin_seated_1970.JPG[/img]
monsieur rick
Janis - The Way She Was Quotes
There are no approved quotes yet for this movie.
Discussion Forum
Discuss Janis - The Way She Was on our Movie forum!