Jason X
(2002)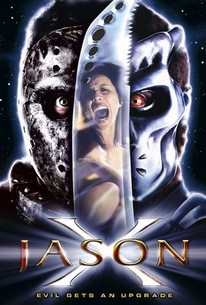 Movie Info
Popular bogeymen Jason Voorhees terrorizes a group of nubile astronauts five centuries into the future in this sci-fi update of the Friday the 13th franchise. Early in the 21st century, Jason (actor/stunt man Kane Hoddar, filling the role for a fourth time) is experimented upon by army technocrats who hope to turn his supernatural invulnerability into a military application. Most of them meet a swift and bloody end -- except Rowan (Lexa Doig), a beautiful functionary, who traps the killer in a cryogenic stasis chamber. Unfortunately, she takes a machete blow in the process, gets frozen herself, and wakes up on a spaceship in the year 2455. The earth has long since been rendered uninhabitable, but the survivors include a group of archaeological students headed by Professor Lowe (Jonathan Potts), who hopes to make a quick buck by selling the corpse of the historical serial killer. The kids re-animate Rowan with the help of nanotechnology. Little do they know that a mere thaw job is enough to resuscitate Jason and reawaken his bloodthirst. Soon, the comely students and their space-marine protectors are being dispatched one by one. Help arrives in the form of a holographic chamber and an android named Kay-Em 14 (Lisa Ryder). Soon, though, Jason himself gets an upgrade -- just as the spaceship is getting ready to self-destruct. The tenth installment in the long-running horror series, Jason X was the first new entry to appear in almost a decade. In fact, the previous film, 1993's Jason Goes to Hell: The Final Friday, was one of two installments whose titles erroneously contained the word "final." ~ Brian J. Dillard, Rovi
News & Interviews for Jason X
Critic Reviews for Jason X
Audience Reviews for Jason X
[img]http://images.rottentomatoes.com/images/user/icons/icon13.gif[/img]
Directors Cat
Super Reviewer
Most people would contend that the idea of putting Jason in space would be the worst idea that the filmmakers ever came up with in the history of the Friday the 13th series. Well, they would be both right and wrong at the same time. Let me put it this way: it is an awful idea, but the resulting movie, Jason X, is just so much fun that it's hard to overlook. It's bad, yes, but in an enjoyable way. It actually has a strange charm to it, even in the worst of scenes. It definitely has a hell of a lot more charm than the worst films in the series (such as the previous one). The story is that Jason and a woman, who he is in the middle of murdering, are cryogenically frozen and unthawed almost five centuries later on a ship in outer space, whereupon Jason runs amuck and kills everything in his path. Later in the film, he is reborn, yet again, and is basically a super-cyborg killing machine. Insane right? Well, it IS over-the-top (and I'm sure I'm gonna be accused of having double standards here), but for some reason, this whole concept and the way it's executed just works for me. It's not perfect by any means, but it is fun, and a good way for the original series to go out on, particulary with the ending that it has. Jason goes to space, kills everybody and lands on a new planet to kill everything again. So the original series of films ends on not a high note, but a mid-range note. I can't even begin to defend it any real way, but most people tend to think of it as the worst of the series. However, I don't, as it contains too much unintentional entertainment value.
Tim Salmons
Super Reviewer
Professor Lowe: Guys, it's okay! He just wanted his machete back!  "Evil Gets An Upgrade" You know what the funniest thing is about how bad this movie is? It's still, in my opinion, not the worst in the Friday The 13th series. That's saying a lot because this movie blows. If there's one thing I don't understand; it's  Friday The 13th fans. All of the movies suck. There are 3 or 4 movies, I consider watchable; that's not to say they are likable. The whole series is shit. All of them are, for the most part, the exact same movie. There's nothing on the level of suspense because we've seen the movie before, the first 9 times it was done and guess what it sucked then too. I love how the makers of these movies think anyone gives a flying fuck about Jason. There's nothing scary about a retard who won't die. Jason X is definitely the worst idea in the franchise, but the sum total is a little more watchable then Jason Goes to Hell and Jason Takes Manhattan. I'd probably rank this as the third worst in the series. But it did give the viewers some valuable information for the future. One is that hockey is going to be outlawed in about 30 years. So everyone in North Dakota better get their hockey on hard for the next few decades. Another is that the future intergalactic researchers are going to be stupid, hot chicks with nice perky breasts, which means, we're fucked. There's nothing about this movie that can be considered entertaining. The special effects were some of the worst you'll ever see. The acting and dialogue was right down there with the rest of the series. No scares and no suspense kind of sums up this movie pretty well, and for that matter the entire franchise.
Melvin White
Super Reviewer
Jason X Quotes
| | |
| --- | --- |
| Janessa: | This sucks on so many levels. |
| | |
| --- | --- |
| Professor Lowe: | Oh, you want your machete! Shit, it's yours! Take it! Just remember who got it back for ya... Guys, it's okay! He just wanted his machete back! |
| | |
| --- | --- |
| Professor Lowe: | Guys! It's okay, he just wanted his machete back! |
| Professor Lowe: | [calling out] Guys, it's okay! He just wanted his machete back! |
| | |
| --- | --- |
| Sgt. Brodski: | What's going on? |
| Rowan: | Jason-fu*king-Voorhees, that's what's going on! |
Discussion Forum
Discuss Jason X on our Movie forum!