Jeepers Creepers 3
(2017)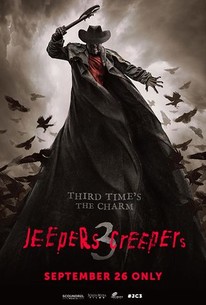 Movie Info
This September, The Creeper returns. Be the first to see the next film in the iconic horror franchise when Jeepers Creepers 3 premieres in movie theatres nationwide for only one night on Tuesday, September 26. On the last day of the Creeper's twenty-three day feeding frenzy, skeptical Sargent Tubbs teams up with a task force hell bent on destroying the Creeper for good. The Creeper fights back in gory glory as its enemies grow closer than ever before to learning the secret of its dark origins. This exclusive one-night event also features never-before-seen bonus footage and an interview with Jonathan Breck, who plays The Creeper in all three films in the franchise.
Critic Reviews for Jeepers Creepers 3
Audience Reviews for Jeepers Creepers 3
½
Somehow, even compared to the massive disappointment that was Jeepers Creepers 2, this movie is still a letdown. If you're looking for an excuse to not give literal paedophile Victor Salva any of your your hard-earned money, here's one: Jeepers Creepers 3 fuckin' sucks.
½
I must admit I'm a fan of these films so I was quite excited to hear number 3 was coming out, Then I read it's set between 1 and 2 so it was hard to enjoy it as we all know the Creeper wasn't going to die, It felt cheap and the acting was pretty bad, It had a few ok gory bits but nothing new, The ending wasn't great as I was expecting a giant battle between the police and the Creeper but nope nothing of the sort and what happened at the end just made number 2 have a huge plot hole which wasn't well thought out, It's not terrible but it's the worst in the series.
Jamie Clarke
Super Reviewer
½
For some reason several of the main characters in this spend the entire movie yelling at each other. Its a curious way to go, but little more than that. If one is a fan of this genre you'll be watching this regardless of what anyone says, but as a heads-up I'll tell you that there'll be few scares for your trouble. It was good to see Meg Foster and Chester Rushing again.
Kevin M. Williams
Super Reviewer
Jeepers Creepers 3 Quotes
There are no approved quotes yet for this movie.
Discussion Forum
Discuss Jeepers Creepers 3 on our Movie forum!