Jennifer 8
(1992)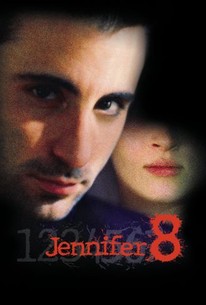 Movie Info
Stressed out LA detective John Berlin gets too near the edge following the destruction of his marriage and decides to leave the violence an un-ending hub-bub of the big city and take a job in the supposedly quiet northern tow of Eureka. Unfortunately, he isn't there long before he finds himself obsessed with pursuing a serial killer with a thing for blind young women. The case isn't new and Berlin's old-time buddy, Freddy Ross and his boys have spent the last six months investigating a string of seven murders. They have dubbed the case "Jennifer 8" because Berlin is positive that he knows the identity of the next victim. She is beautiful blind student Helena Robertson, the roommate of the latest victim. As he steps up his investigation, Berlin finds himself falling for Helena. Meanwhile, he has become so obsessed with finding the killer that pal Ross begins worrying that Berlin is having a breakdown and so goes with him on a late night surveillance of Helena's school. A tragedy ensues leaving Berlin to not only go it alone, but also to clear his own name. ~ Sandra Brennan, Rovi
People Who Like this movie also like
Critic Reviews for Jennifer 8
Audience Reviews for Jennifer 8
Jennifer 8 is a very uneven suspense drama, with elements of a strong serial killer thriller, but also a number of issues which undermine it. The cinematography is great, and succeeds in creating a very eerie unnerving feeling throughout the film. Some of the performances are pitch-perfect (John Malkovich), good (Andy Garcia), but also flat and unconvincing. This is largely due to a script that has some excellent dialogue exchanges, but also features a number of clunky lines and a confused sense of direction. The film is never as involving as it should be. Still, Jennifer 8 manages to keep things interesting enough with a compelling protagonist, and some really strong work (albeit belated) by John Malkovich. 3/5 Stars
Jeffrey Meyers
Super Reviewer
"Sir, I think I've found something horrible!" Deliberate, rather well plotted detective curio that is long in development yet short on visceral thrills. I guess we don't see this kind of mystery in multiplexes anymore because of the proliferation of cop shows on TV that tell this kind of story. Some fine acting from Lance Henriksen and Andy Garcia who are strangely cast as brothers, with Garcia amusingly letting his natural Cuban accent slip out when his temper rises. John Malkovich is great in a small but crucial role as interrogator, and don't forget about blind girl Uma! I appreciated that the expected romance between cop & target was allowed to develop so that it made some sense and that the police department behaves in a very logical, methodical way. The killer's motive is not very convincing, but their identity at least is not merely chosen for shock value. A pretty good movie that mostly holds up through the end, I'll take it over any 3 episodes of C.S.I.
Doctor Strangeblog
Super Reviewer
½
The trailer for this looked promising with a different angle on the serial killer genre, but I have to say, was bored through a lot of this film I think it was too heavily focussed on the relationship between the two main characters, rather than what could have been an amazing and scary plot
Lady D'arbanville
Super Reviewer
Jennifer 8 Quotes
There are no approved quotes yet for this movie.