Justice League: Gods and Monsters
(2015)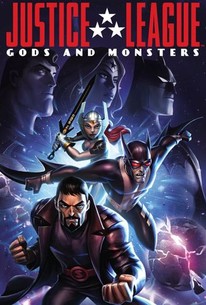 Justice League: Gods and Monsters Photos
Movie Info
In an alternate universe, very different versions of DC's Trinity fight against the government after they are framed for an embassy bombing.
Critic Reviews for Justice League: Gods and Monsters
Audience Reviews for Justice League: Gods and Monsters
½
I didn't enjoy this at all as I found it very dull and it seemed to drag on too much, The animation was ok and there was a good action scene at the end but that's all it had going for it, It's over told plot ruined it from being any good, It's not one for the kids as it had some bad language and a few bloody scenes plus the fact that it's too story heavy for kids to really get into it, If you're not a hardcore fan you probably won't understand what's going on either, It's one of those films where if you don't know the history then it wont appeal to you at all, I did know the history and I still found it to be one of the worst DC animated films to date.
Jamie Clarke
Super Reviewer
DC explores an alternative universe in Justice League: Gods and Monsters. In this re-envisioning Superman is fathered by General Zod and leads an ultra-violent super-powered trio that work with the government to takeout terrorist groups; but after they're framed for a number of murders the government turns against them. Featuring the voice talents of Benjamin Bratt, Michael C. Hall, and Tamara Taylor, the casting is pretty good. Additionally, the artwork features some interesting character designs that reflect the darker tone. And, the violence is surprisingly graphic and doesn't shy away from showing blood and carnage. Incredibly bold, Justice League: Gods and Monsters is a thrilling Elseworld adventure.
Dann Michalski
Super Reviewer
Great twist on the normal Justice League and definitely not for the younger crowds. The story was really mature and darker than anything I've seen from DC animation. I would like to see more and greater stories like The Dark Justice League
Brendan Nicholls
Super Reviewer
Justice League: Gods and Monsters Quotes
There are no approved quotes yet for this movie.