Justin Bieber's Believe
(2013)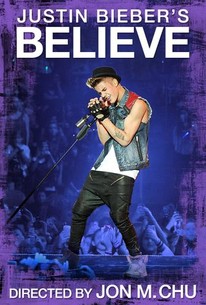 Justin Bieber's Believe Videos
Justin Bieber's Believe Photos
Movie Info
Behind the headlines, beyond the spotlight -- there's more to his story. Directed by Jon M. Chu (Never Say Never, G.I. Joe: Retaliation) JUSTIN BIEBER'S BELIEVE captures 19-year-old Justin Bieber unfiltered and brutally honest. In brand new interviews with Bieber, the movie reveals long-awaited answers to questions about his passion to make music, relationships and coming of age in the spotlight -- as well as never-before-seen concert footage, unprecedented behind-the-scenes access and special appearances from manager Scooter Braun, Patti Mallette, Usher, Ludacris and many more. (c) Open Road
News & Interviews for Justin Bieber's Believe
Critic Reviews for Justin Bieber's Believe
Audience Reviews for Justin Bieber's Believe
im sick and tired of people in the music buisness wasting my time and money with a documentary about their long 18 or so years of life. Justin Bieber use to be a charming some what talented young lad who was then discoverd and became an egocentric, rude, Delinquent who still somehow gets supported by his teenage girl fanbase which only like him because he is a beautiful young man. this leads me into my next complaint why the hell is somebody this young getting a bio pic made? what has he contributed to society besides being jerk off material to underage girls, piss in a janitor bucket, curse out Bill Clinton, get a DUI, and sing like every mediocre singer today? the answer is not a God Damn thing. And "Believe"? believe in what? that fame and fortune can make a decent kid into a big douchebag and a turd stain in the underpants of entertainment? Frankly i cant "believe" this guy got a movie let alone Two! i hope to never see these kind of egocentric biopics of people still in their teens ever again which is pretty much out of the question because Hollywood is so desperate for ideas that they are digging into the deep compacted tunnel, which is their ass and pulling out such abysmal and unworthy creations that are too expensive and give the audience nothing to take away from it. 0/5 stars.
Jacob Lagana
JUSTIN!!!! WHERE DISNEY SHOULD HAVE HIM IM DONE WITH HIM!!!!! I THOUGHT HE WAS GOING TO BE GOOD IN THIS MOVIE!!! NOPE!!!!!
Tony Velasco
½
While I am in no way a fan of the kids music I am also not a hater and as long as the kid doesn't throw away his potential on stupid ego trips more power to him. That said Justin Bieber's Believe is pretty one sided showing the artist in only a positive light. While I did find myself nodding in approval of some amazing pieces of humanitarian work he didn't have to do I kept wondering about all the other issues the film just seemed to avoid so as not to make the kid look spoiled. Again as someone who does not enjoy this style of music but also has no ill will or hate towards his talent Believe is an ok piece to get to know the artist but I can hardly swallow that it isn't biased.
Jonathan Porras
Justin Bieber's Believe Quotes
There are no approved quotes yet for this movie.
Discussion Forum
Discuss Justin Bieber's Believe on our Movie forum!