Kill Your Idols
(2006)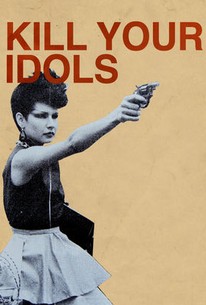 Movie Info
A thrilling, comprehensive guide to New York's buzzing downtown underground post-punk scene. Director Scott Crary kicks things off with the birth of No Wave in the late 1970's, providing an angular rush with a priceless collection of live performances from Suicide, Teenage Jesus and the Jerks, the Theoretical Girls and DNA. From this initial explosion of artistic energy, the film moves through the 1980's, passing the torch to Thurston Moore and Lee Renaldo of Sonic Youth and Michael Gira of Swans, before crashlanding in the noisy Now! of the Yeah Yeah Yeahs, Black Dice, Liars, A.R.E. Weapons and the Gypsy stylings of Gogol Bordello. Interviews connect the threads between the past and the present, an ever-fertile scene is defined, celebrated and trashed with equal amounts of enthusiasm, and the creators of some of the most challenging rock music of all-time get to explain what they do, why they do it and where it's all heading.
Critic Reviews for Kill Your Idols
Audience Reviews for Kill Your Idols
Recently I've been getting into No Wave bands like DNA, Mars, Teenage Jesus, and obviously early Sonic Youth and Swans (2 ofmy favourite bands for awhile now.) When I heard abut this documentary on the New York No Wave scene of the late 70's/ early 80's I was excited to see it. The first half is really good, but the film got derailroaded aroun the middle portion. Instead of continuing with a pretty good documentary about No Wave it jumps ahead to 2002 and begins interviewing bands of the current New York hipster sene (Yeah Yeah Yeah's. Black Dice, Gogol Bordello, Liars etc.) ll good bands for what they do, I just don't think that they had any business being in this movie. Maaaybe if they were actually talking about the subject of the film I could have gotten over it, but nstead, as hipsters usually do, they talked about themselves. When asked about No Wave, the only band most of them seemed to be aware of was Sonic Youth. Anyways then the movie cut's back to the No Wave peoples and you get their perspective on the current scene. Basically I wanted a documentary about No Wave, and this film started out as that, but in the end couldn't really decide what the topic of the film was. So it doesn't get to in depth about any of the topics it covers. That being said the movie get's a pass from me as there is some really good performance footage from the old No Wave bands, some entertaining and enlightening interviewsfrom Lydia Lunch, Thurston Moore, Michael Gira, The Singer from DNA, Martin Rev, Lee Ranaldo etc. Perhaps I am being a little harsh but in the end I felt this movie was a failed attempt at covering a scene that still deserves a more thorough examination. Ah well, worth seeing for the things it did right as mentioned above.
Ed Fucking Harris
Super Reviewer
Kill Your Idols Quotes
There are no approved quotes yet for this movie.