Knocked for Six (Save Your Legs)
(2014)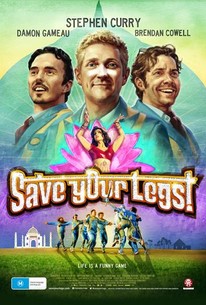 Movie Info
For Edward 'Teddy' Brown, it's not just the end of Summer; it's the end of an era. In a desperate bid to wind back the clock and cling to his childhood dreams, Teddy leads his two best mates and their cowboy cricket club on an audacious tour of India, winning friends but losing matches all the way. Save Your Legs! is a wild rickshaw ride from the suburbs to the Subcontinent, where stumps fly, friendships fray and mates learn that the biggest shots in life are played off the field.
Critic Reviews for Knocked for Six (Save Your Legs)
Audience Reviews for Knocked for Six (Save Your Legs)
½
When the film was first announced I couldn't explain my enthusiasm. Once I seen the trailer I started to have doubts considering the lack of story this just seemed to be another dull Australian comedy. Stephen curry is a talented actor but even himself couldn't save this film from its tiresome self. The direction is all over the place as the film has more dramatic overtones and then is dragged into the mud by some dull humour which honestly do not suit the film. A straight comedy film would of been a better direction but this film lacks anything to recommend it. A strong Aussie cast is wasted by some really dull humour. I would have liked to see a cricket film based at the cricket club as opposed to this. The tone is all over the place and it was hard to gain any sympathy for the characters. Give this film a miss
Brendan Nicholls
Super Reviewer
Knocked for Six (Save Your Legs) Quotes
There are no approved quotes yet for this movie.