Kaidan (Kwaidan) (Ghost Stories)
(1964)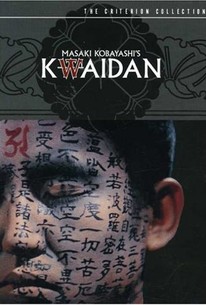 Kaidan (Kwaidan) (Ghost Stories) Photos
Movie Info
Kwaidan is an impressively mounted anthology horror film based on four stories by Lafcadio Hearn, a Greek-born writer who began his career in the United States at the age of 19 and moved permanently to Japan in 1890 at the age of 40, where he eventually became a subject of the empire and took on the name Koizumi Yakuno. Hearn became a conduit of Japanese culture to western audiences, publishing journalism and then fiction incorporating traditional Japanese themes and characters. "Black Hair," the first tale, concerns a samurai who cannot support his wife; he leaves her for a life of wealth and ease with a princess. Returning years later, he spends the night with his wife in their now-dilapidated house, only to awake to a horrifying discovery which drives him insane. In "The Woman of the Snow" (deleted from U.S. theatrical prints after the film's Los Angeles opening; it is on the DVD version), two woodcutters seek refuge during a snowstorm in what appears to be an abandoned hut. A snow witch appears and kills one of them but lets his partner free. Years later, the survivor meets and married a lovely young woman, only to learn her true identity. The most visually impressive tale is "Hoichi the Earless," in which a blind musician is asked by the ghost of a samurai to play for his late infant lord at a tomb. The monks who house the musician cover him with tattoos to prevent any harm coming to him, but they forget his ears. He returns from the engagement with his ears cut off; however, his misadventure propels him to fame. "In a Cup of Tea" concerns a samurai who is haunted by the vision of a man he sees reflected in his tea. Even after he drinks from the cup, he still sees the man while on guard duty. ~ Tom Wiener, Rovi
News & Interviews for Kaidan (Kwaidan) (Ghost Stories)
Critic Reviews for Kaidan (Kwaidan) (Ghost Stories)
Audience Reviews for Kaidan (Kwaidan) (Ghost Stories)
½
It takes real talent in an artist to make a ghost story scary and poetic, and here are four of them. Before, only in the Powell/Pressburger films I had seen such pictorial beauty.
Pierluigi Puccini
Super Reviewer
a film containing four short films that are ghost stories from various points of the samurai era in japan. while all four stories were compelling, my perfect rating is mostly for the third story called "hoichi the earless man". hoichi is easily the greatest ghost story i have ever seen on film, with wonderful acting, flawless cinematography, and a haunting storyline. it was a pleasant suprise to see takashi shimura appear as well. the art direction and cinematography for all four stories was essentially perfect, and these four stories assemble to make one of the greatest films i have ever seen.
Four supernatural Japanese folk tales: a samurai is haunted by regret when he leaves his poor wife for a rich one; a snow-spirit spares the life of a young man on one condition; ghosts demand a blind harpist perform for them; a man sees an apparition in a cup of water. Slow, beautiful, hypnotic, poetic; eye-popping sets and masterfully eerie music. A masterpiece.
Kaidan (Kwaidan) (Ghost Stories) Quotes
There are no approved quotes yet for this movie.